Wednesday, May 27, 2015
/lk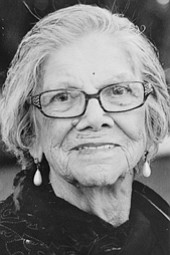 Hortencia Betancourt, our beloved mother, was called home to Heaven in the early morning hours of Saturday, May 23, 2015.
She was born Sept. 18, 1926 to Jose and Candelaria Garcia in Edinburg, Texas. She spent her early years in General Teran, Nuevo Leon, Mexico where she later met the love of her life, Salvador Betancourt. She and Salvador were married Sept. 29, 1950 at Hacienda Santa Ana.
She migrated back and forth with her family from Rio Grande Valley to the Yakima Valley before settling in Sunnyside in 1961.
She loved to serve her community and was an active volunteer and lifelong member of St. Joseph's Catholic Church serving in various ministries over the years such as, eucharistic minister and taking Holy Communion to the sick and elderly, Las Guadalupanas, Society of St. Vincent de Paul, chaperone for St. Joe's youth group, Bereavement Luncheon Committee and she volunteered at St. Joseph Food Bank for over 10 years.
Her hobbies included sewing, cooking, baking, knitting and playing bingo. 
She is survived by her 12 children; Hortencia (Guadalupe) Cuevas of Auburn, Connie (Mario) Luna of Kent, Maria (Joe) Acosta of Sunnyside, Aurelia (Fernando) Mancha of Houston, Irma (Marty) Thornton of Lakewood, Richard (Clara) Betancourt of Yakima, Salvador Jr (Rosa) Betancourt of Moxee, Oralia (Ediberto) Villarreal of Sunnyside, Ofelia (Tony) Salinas of Seattle, Cindy (Luis) Nicacio of Richland, Jose (Elizabeth) Betancourt of Seattle, and Amey (Jorge) Trujillo of Quincy; 33 grandchildren and 23 great-grandchildren; siblings and their spouses, Maria de Jesus Rodriguez, Roberto & Juanita Garcia and Servando & Santos Garcia all of General Teran, Nuevo Leon, Mexico; and many nieces and nephews.
She was preceded in death by her parents and husband, Salvador Betancourt.
Viewing will be Thursday, May 28, 2015, from 2 to 8 p.m., with a Rosary at 6 p.m. at Smith Funeral Home in Sunnyside. Mass of the Christian burial will be celebrated at St. Joseph Catholic Church on Friday, May 29, 2015, at 10 a.m. Her final resting place will be next to her husband at Lower Valley Memorial Gardens.
We were very blessed to have had her in our lives for many years.
Gracias, Mami, por todo su amor, carino, y buenos ejemplos. La queremos mucho y la llevamos en el corazon.
Smith Funeral Home Ltd. and Crematory is in care of arrangements.
More like this story