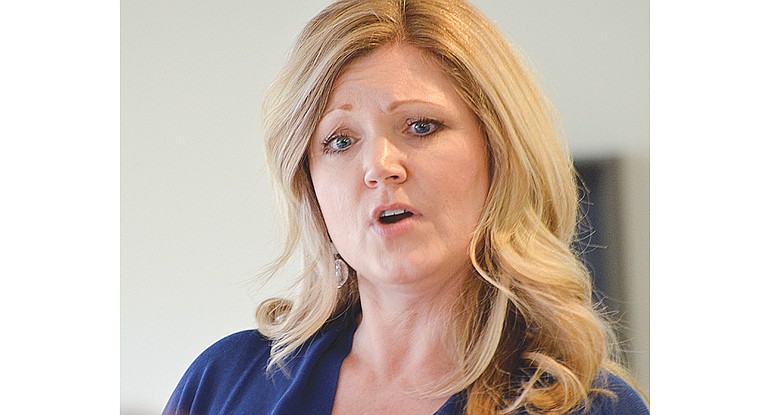 Wednesday, March 25, 2015
/lk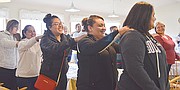 GRANDVIEW - Anyone caring for a loved one or an individual who has limited mobility, someone who is unable to do certain things for themselves, is a caregiver.
Caregivers, according to Heather Kirk, a registered nurse for Home Health Care Solutions, often neglect their own care.
This past Monday she visited Orchard House in Grandview to provide tips for caregivers.
"Caregivers do the shopping, cooking, cleaning, laundry…filling in the gaps," said Kirk.
Because there is a balance that must be maintained while caring for others, caregivers often forget to take care of their own needs. "Caregivers forget to take time for themselves because they are too busy caring for everyone else," she said.
That means the caregiver forgets to go to the doctor, neglects their own social life and can become lonely, exhausted and depressed, according to Kirk.
Too often, a caregiver is so focused on understanding the issues of those they are caring for, the caregiver forgets to take a step back from the situation to properly understand their own frustrations.
"This is not healthy for the caregiver or the person they are caring for," Kirk said.
The caregiver risks his or her own health, both mentally and physically.
Kirk warned those attending Monday's free seminar to be mindful of risk factors associated with burnout.
If the person is feeling overwhelmed, exhausted, losing interest in everyday activities, feeling worried or sad, she suggests they seek outside support.
Burnout may manifest itself via physical signs, as well. Increased headaches, weight gain and anxiety could indicate a person is suffering from burnout. That person may also start drinking alcohol more frequently or taking controlled substances, according to Kirk.
To prevent burnout, she said it is important to better manage one's time, find a support group, form a support group or seek out a mental health professional.
Support groups, said Kirk, are particularly valuable because they can provide a safe environment for venting one's concerns and frustrations, as well as sharing insight with one another.
"It's a lot like getting together with your girlfriends," Kirk said, looking at the women in the room.
There were a couple of men in attendance and she apologized, stating men don't vent as much as women.
Kirk said it is also important to exercise on a regular basis. "Exercise releases endorphins," she said.
Maintaining an active social life and keeping a sense of humor are other ways a caregiver can prevent burnout.
While caring for another person, Kirk said there are ways the caregiver can help both the person in their care, as well as themselves.
"Physical touch and massage are beneficial in many ways," she said.
Hugs and other forms of physical touch can release oxytocin, which reduces cortisol.
Kirk said increased oxytocin levels can help with digestion, wound healing and mental well-being. A person's level of trust is increased, as is the level of empathy and sense of contentment.
Cortisol, a hormone often generated from stress, contributes to heart disease and many other health issues.
Kirk said there are ways a caregiver can initiate touch, increasing oxytocin, without being invasive.
Using play-doh for kneading can relieve stress, she said. The play-doh can be used by both the caregiver and the individual being cared for.
"In a situation where a person is agitated or wants to wander, it's good to have back-up tools…kneading play-doh can help relax the person in a tactile way," said Kirk.
Another inexpensive tool she suggests is a head massager. She said the caregiver can use it to massage the head of the person under their care while that individual kneads the play-doh.
A small rubber ball, too, can be beneficial, said Kirk. She demonstrated by placing such a ball between her back and a wall. As she moved her torso up and down against the ball, she said it was like having a mini back massage.
Relieving stress, said Kirk, is beneficial to everyone. It provides the caregiver better health, as well as the person under his or her care.