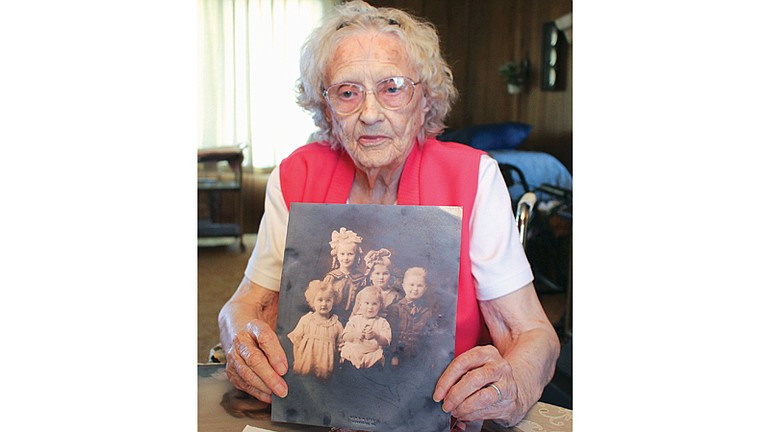 Friday, June 12, 2015
/lk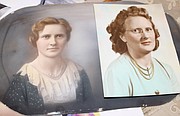 On July 5, Pauline Padgham Shockley of Outlook will celebrate her 100th birthday, surrounded by her family and friends.
The centenarian's party, to be held at Sunnyside's Snipes Mountain Brewery and Restaurant, is sure to be a fun time. "I know I'm looking forward to it," she said.
"I've been thinking about my 100th birthday for several years," she grinned.
For her granddaughters, Barbara Quinlan, Gail Sauve and Colleen Boyer, the opportunity to plan their family matriarch's birthday gala has been both a labor of love and walk through their family's history.
The women describe their grandmother as a role model to the family, "…and she's fun," they agreed.
"Grandmother has always been one to be interested in our family history. She has done a lot of her own research into our heritage," said Quinlan, who along with Sauve live nearby in West Wenatchee. Boyer lives in Dallas, Texas.

"It's been fun to go through her volumes of photographs and hear all of her stories about growing up in Sunnyside," Quinlan added.
For Mrs. Shockley, gathering the threads of family history has been a life-long project and she had made the search of the Padgham family heritage easier for her family by compiling the genealogy in a typewritten sheaf of pages.
Pauline Padgham was born on her parents' homestead on Allen Road, just east of Sunnyside, one of nine children born to Herbert and Gertrude Padgham. Her family's home is still standing and is currently occupied by Sunnyside's Dr. Scott and Felicia Abbott. The original house, barn and dairy sheds can still be seen from Yakima Valley Highway and I-82.
A walnut grove planted by Shockley's mother in 1917 also still stands on the Allen Road property.
The farm remained in the Padgham family from 1907 until the late 1960s. For most of those years, the farm operated as a dairy, said Shockley.
She remembers going to the Washington School, which was located about a mile north of the farm, and later traveling into town to attend high school.
"Most of the Padgham kids went off to college following in their parents' example," she added. Shockley's father had attended Cornell University and his wife had attended a Normal School for future teachers in Missouri.
As for Pauline Padgham, she married her childhood sweetheart, Cecil Shockley, on Aug. 21, 1933. They were married for 75 years. He died in December 2006.
"Cecil was Sunnyside's first milkman, delivering dairy products for Morning Milk and later for the Carnation Milk Company," recalls Mrs. Shockley. She also recalls her husband making dairy runs to the town of Hanford during the construction of the first nuclear plants in the area.
"He also hauled bricks for the construction of the Sunnyside Post Office. The bricks were kilned at the Granger brick factory," she said.
The Shockleys raised their two daughters on the couple's home, which Mr. Shockley built on South Hill Road.
"We raised two daughters, who gave us eight grandchildren, who in turn provided us with 18 great grandchildren, followed by 17 great-great grandchildren," Shockley exclaimed.
In addition to raising her family, Mrs. Shockley "worked out," as a store clerk and at a local bakery.
When her children left home, she and her husband became quite involved in the Gideon Society. She became the Gideon Society state auxiliary president, which provided her with one of her fondest memories. "I got to travel a lot as the state president," she reminisced.
Among her travel adventures was an early solo train trip to meet her first grandchild (Barbara Quinlan).
"I couldn't believe I did that," she added, noting she traveled a lot after that, going as far as Washington D.C. for the Gideon organization and, of course to visit other grandchildren.
In addition to her church and missionary work, Mrs. Shockley, a long-time member of the Sunnyside Grace Brethren Church, was active in the establishment of the Sunnyside Historical Museum.
In fact, many of the items first loaned to the museum back in the 1960s were Padgham family heirlooms.
Most of the objects have since been returned to the family and distributed among the grandchildren, Shockley said.
A woman with a love of history, family and gifted with a gentle sense of humor, Mrs. Shockley attributes her love of life to her mother.
"She was a real 'Proverbs 31' woman," Shockley said.
"She could do everything and taught her children how to do the same. She was always helping Dad, in addition to raising a garden, and whatever was needed to feed nine children," she explained.
"She taught us about giving and was always as generous as she could be with the various causes she supported," Shockley said of her mother.
It is those attributes her granddaughters have seen reflected in their grandmother's life many times.
"She loves life, always has a kind word for everyone she meets and always has a fun story to share," said Quinlan.
"We're excited to celebrate her life with her and her friends," she added.
More like this story