Friday, July 17, 2015
/lk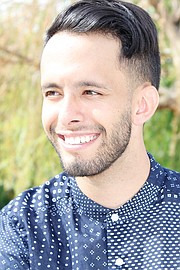 GRANDVIEW - Ulyses Osuna of Grandview is one of just eight 2015 high school graduates in the country to win an eSchoolView scholarship in a national web design competition.
Students from across the country vied for the $15,000 in prize money offered in the Investing in Our Future contest, sponsored by eSchoolView.
The 2015 GHS graduate was one of five $1,000 scholarship winners and one of three award recipients from the Pacific North-
west.
A Columbus, Ohio-based company, ESchoolView creates websites for schools and educational organizations and works to create opportunities to help students, like Osuna, develop 21st century skills.

According to company officials, most of this year's entries in the web design and development scholarship programs are largely self-taught. Executive Director Rob O'Leary said the fact that the majority of the young designers are self-taught underscores the need to encourage innovation in schools.
Osuna created a sample of web pages for the Grandview High School FFA and the DECA programs. As a part of his contest entry he was required to include a written essay, a mock budget and show collaborative effort for a three-page minimum
website.
Osuna said he became interested in web design when he discovered online marketing last summer.
"I learned that good quality websites can help establish a better business credibility and potentially a better user experience. First impressions count and users will judge a website within the first 60 to 90 seconds which is why it helps if it looks professional," he explained. 
Osuna said he will attend Heritage University in Toppenish.
"I will major in business, more specifically entrepreneurship," he said.
Osuna sees himself pursuing a career in online marketing.