Tuesday, December 8, 2015
/lk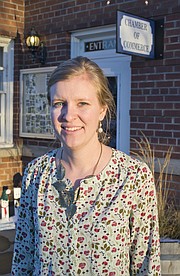 PROSSER — As the Chamber of Commerce prepares for its 75th anniversary in 2016, it will do so with a new executive director on board.
"We have enough big ideas for one year," Larelle Michener said of her new role. "For the first year, I'll be getting my feet under me. Then we can think about improvements."
After four weeks on the job, Michener said she's to enjoying the work.
"I was on the (chamber) board for two years," she said. "But now I'm learning the nitty gritty of running the chamber. There's a learning curve."
Until recently, the 27-year-old Michener worked for her parents at Bill's Berry Farm.
"I was a girl Friday," she said. "My primary job was marketing, but I could do a lot more."
She said it was hard to step down from that role, but the chamber job requires all her attention.
"This is a full-time-plus job," Michener said. "It fits my skill set and I'm excited to be a part of it."
Michener lived in Prosser as a child before her parents moved to their Grandview farm when she was 5 years old. She considers Prosser home and is happy to be part of the community.
She said the chamber has more than 250 members and is a vital part of the community.
"That growth didn't happen overnight," she said. "One of my goals is to continue the growth and continue helping this community in every way."