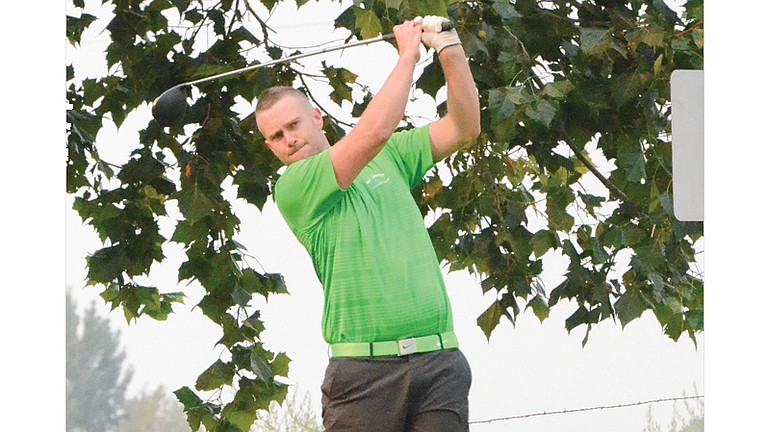 Tuesday, August 25, 2015
/lk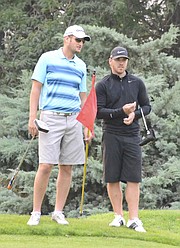 It was a roller coaster type ride for Eric Inions. He was one of several Zillah athletes who excelled this past weekend at Sunnyside's Black Rock Creek Golf Course.
After numerous ups-and-downs and twists-and-turns, Inions bested a strong 66-golfer field and walked off with top honors from this year's Banana Belt Golf Invitational.
Inions' 36-hole card for the two days featured plenty of thrills…as in knocking down two eagles and four birdies. His wild ride, however, also included absorbing a triple-bogey. Along with that downspin came a pair of doubles, as well as four very pedestrian bogeys.
But, with 23 pars thrown in for good measure, Inions got clear of the field by a solid two strokes. He shot 77-69 for a 2-over 146.
Hot on his heels were another pair of Zillah golfers – Derrick Phelps and younger brother T.J. Inions. The two finished second and third, respectively, with two-day totals of 148 and 150.
All three Zillah linksters are regulars at Toppenish's Mt. Adams Country Club. As is Troy Wilmoth of Yakima, who nabbed the fourth-best tally in tourney play with a 151.
Early on in this year's Banana Belt, it was Derek Wood who set himself up as the man to beat. Saturday, the Yakima Elks Country Club member snagged five tweeters on the 6,286-yard course enroute to firing an opening-day best, even-par 72. That was one shot better than the 1-over 73 claimed by Phelps, a Zillah High School graduate this past spring…and two clear of Wilmoth, the longtime veteran of the links, who scorched the bulk of the field with a nifty, 2-over-par 74.
However, any shot Wood had of going wire-to-wire went by the wayside early on Sunday. He opened day-two action by taking a double-bogey on the opening hole. After righting the ship with a par on No. 2, Wood's boat quickly took on water when he bogeyed the par-5 third, and then tripled the straightaway, 343-yard fourth hole.
Hitting the turn at 7-over 43, Wood did himself no favors when he hit the backside and doubled No. 10, then bogeyed the dogleg right 11th hole.
When all was said and done the Selah-area golfer stumbled in with an 87 (43-44). His second-day blow-up relegated the first-day leader to an overall 14th-place finish.
The eventual tournament champion, the eldest of the two Inions brothers, got off to an uneventful start Saturday. Opening his round on the back nine, he hit the clubhouse turn with a 2-over 38, thanks in large part to a birdie on No. 18.
Inions played the first two holes on the front side even-up. But then, he sandwiched a pair of pars on holes four and five with a double-bogey on the par-5 third and a triple-bogey on the par-5 sixth.
To his credit, instead of collapsing, Inions fought back with a par on No. 7, then miraculously holed out for an eagle on the 372-yard, par-4 eighth hole. With momentum in hand, he parred the short, par-3 ninth and was in with a 39 for an 18-hole total of 77.
Inions didn't waste any time in setting the winning pace early on Sunday morning. He slipped to 2-under on the day with an eagle on the short, par-5 third; following that up with a bird on the very next hole.
Other than a minor hiccup with a bogey on No. 8, Inions cleared the front side with a 3-under-par 33.
The Zillah golfer stayed the course with six consecutive pars to open the back nine. The final dagger Inions thrust came on No. 16, one of the lengthiest par-4 holes at Black Rock Creek. Playing at 402 yards, he birdied the hole before finishing up par-bogey. That left Inions at even-par 36 on the closing nine – 3-under-par for the day and 2-over for the tourney.
Phelps, the 2015 Banana Belt runner-up, was solid throughout. After opening with a 73 on Saturday, a round which featured four birdies and nothing worse than a bogey, the recent high school grad toured the closing 18 holes Sunday with a 3-over-par 75. His second-round card, again, had nothing worse than bogey on it. And, Phelps clipped the fairly tight Sunnyside course for two more birdies in day-two action.
The third-place finishing Inions brother, T.J., had rounds of 76-74, in what can only be described as … oh, what might have been. With eight birdies over the course of the two days, he should have been the horse everyone else was trying to run down. Unfortunately for him, he had to scribble an 11 on his scorecard Saturday.
That bogey-six came on Black Rock Creek's toughest rated hole, the par-5 sixth. The gently sloping, dogleg-right hole is bordered by an OB fence on the left, a bubbling brook that parallels the right side of the fairway and a pond that fronts a large green with no room behind it for long, errant shots.
Wilmoth, with the fourth lowest score in this year's 66-golfer field via rounds of 74-77, collected one birdie each of the two days. Other than a pair of double-bogeys he absorbed on Sunday, he pretty much played par-golf throughout.
This year's Banana Belt invite was divided into three flights.
The six lowest individual rounds from the entire field came from flight one competitors…the two Inions brothers, Phelps, Wilmoth, and Joey Plaisance (153) and Jed Tait (154).
The low scorer in flight two proved to be Zillah's Dewey Steinmetz. He finished five strokes ahead of his closest competitor with rounds of 78-77 (155).
Jerry Besel of Yakima, a Mt. Adams Country Club member, edged out a strong field of flight three golfers. He tallied a two-day total of 169 on rounds of 86-83. Also in the hunt in that flight were Troy Monholland of Sunnyside (87-83), former Sunnysider Jim Schlenker (88-83), and Earl Bellegante (86-86) and Alan Sandlin (89-84).
This year's low net of field winner (actual score minus handicap) was Miles Plata. The Prosser golfer totaled a handicap-aided, two-day score of 138.
The low net finishers from each flight who cashed in this year's Banana Belt included Joel Elder (143), Jose Contreras (143), Wilmoth (143) and Carol Monholland (144) from flight one; Dick Poteet (139), Doug Veach (142), Scott Andrews (142) and Tony Whitley (145) from flight two; and Rich Wakeland (139), Schlenker (145), Bob Barker (145), Mark Richey (147) and Stan Davis (147) from flight three.
2015 BANANA BELT
Flight 1
Eric Inions 77-69 - 146
Derrick Phelps 73-75 - 148
T.J. Inions 76-74 - 150
Troy Wilmoth 74-77 - 151
Joey Plaisance 78-75 - 153
Jed Tait 78-76 - 154
Brad Nelson 81-74 - 155
Joel Elder 76-79 - 155
Carol Monholland 78-78 - 156
Jose Contreras 77-80 - 157
Mike Rompa 75-82 - 157
Greg Gustafson 79-79 - 158
David Stokes 78-81 - 159
Derek Wood 72-87 - 159
Perry Page 77-82 - 159
Corey Degrood 79-81 - 160
Matt Van Wingerden 83-78 - 161
Sean Tudor 81-80 - 161
Jon Bright 85-78 - 163
Tye Barrett 88-77 - 165
Paul Fulton 85-84 - 169
Deven Murray 90-93 - 183
Flight 2
Dewey Steinmetz 78-77 - 155
Miles Plata 85-75 - 160
Dick Poteet 79-82 - 161
Dave Wilson 79-84 - 163
Craig McCloud 88-76 - 164
Doug Veach 84-80 - 164
Scott Andrews 84-80 - 164
Lyn Dasso 87-78 - 165
Tony Whitley 77-88 - 165
Larry O'Brien 84-82 - 166
Grant Smith 88-79 - 167
Kevin McKay 86-83 - 169
Mike Chambers 85-86 - 161
Phil Luther 84-88 - 172
Kevin Frazier 86-88 - 174
Michael Nichols 86-88 - 174
Rick Mitoff 86-89 - 175
Jason Eberle 88-92 - 180
Jim Page 89-93 - 182
Ron Harle 93-95 - 188
Tom Diener 96-97 - 193
Russ Arbuckle 86-NC - NC
Flight 3
Jerry Besel 86-83 - 169
Troy Monholland 87-83 - 170
Jim Schlenker 88-83 - 171
Earl Bellegante 86-86 - 172
Alan Sandlin 89-84 - 173
Mark Richey 88-87 - 175
Robert Barker 86-89 - 175
Greg Lenhart 88-95 - 183
Richard Wakeland 89-94 - 183
Terry Ostrander 91-93 - 184
Steward Rogers 93-92 - 185
Candice Flores 90-98 - 188
Randy Boast 100-88 - 188
Bob Hicks 97-92 - 189
Stan Davis 94-97 - 191
A.J. Cisneros 99-93 - 192
James Holt 94-104 - 198
Joel Pulido 99-100 - 199
Ken Herber 105-100 - 205
Mark Drollinger 103-105 - 208
Conrad Besel 120-104 - 224
Mike Stegeman 124-121 - 245