Friday, April 10, 2015
/lk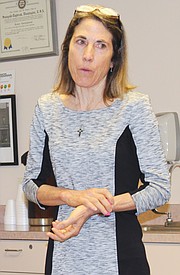 Learning takes on a different feel when a person can see up close the layers that have gone into transforming a single grain of sand into a rock the size of a child's head.
That is the experience Sunnyside elementary school children are currently being exposed to thanks to the Sunnyside Daybreak Rotary Club.
This morning, Sunnyside Chief Kamiakin teachers Doris Matson and Erika Barrom thanked the club members for giving their students an eye into another world.
Matson, a first grade teacher, explained that for 20 minutes every day she is able to take her students on a science expedition to the Seattle Burke Museum of Natural History and Culture, using the Burke Museum in Box program, which the Rotarians rented for the Sunnyside School District elementary students' education.
The Rotarians decided to offer the Burke Museum in Box program to area schools after learning of the traveling educational program last year from a Burke Museum curator.
Matson said many of her students are not only hearing about rocks through written materials, they are touching the rocks and are then sharing their observations in writing and in classroom presentations.
The Burke boxes are full of scientific specimens, from rocks to life-size bat skeletons, and cultural artifacts like some of the actual tools used by Native Americans and the Lewis and Clark Expedition members.
The materials are designed to supplement the study of various topics related to Pacific Northwest natural and cultural histories.
Matson said some of her students, who have struggled to write, are now finding their minds opened and are transferring their newly found knowledge to paper.
Barrom, who teaches fourth graders at Chief Kamiakin Elementary School, said the Rotarians are allowing the students to go to the museum when "some of the children don't even know what a museum is."
"The Burke boxes are giving the youngsters a hands-on experience," she added.
"I encourage you to think about coming into the classroom and watching the children 'see and touch' history," Barrom urged.