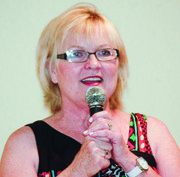 PROSSER - What would it be like to suffer from depression every day for three months straight?
Pretty awful, according to De Ann Chambers, a personal fitness coach.
"Depression is an ugly word and it is worse if you are suffering from it," said the Newberg, Ore. woman.
Speaking at the monthly meeting of the Lower Valley Christian Women's Connection this past Tuesday, Chambers - who now is a personal coach for Curves - said she first became acquainted with depression at age 13.

"My father liked to play practical jokes and growing up, I gained my sense of humor watching him," she explained.
"Then one day he left, and my family crumbled," Chambers said.
Chambers said depression hit her like a fog. "At 13, I didn't know what it was that hit me," she said. "It scared me, but I couldn't shake it."
Watching and listening to Chambers one wouldn't think depression had been such a big part of her adult life. She is quick to tell a joke or a humorous story, blending her testimony with sad tales of her childhood and adulthood. Today she offers women her secrets for a healthy and happier life.
"Get medical help and get Jesus into your life," she said.
"We all have struggles and we all face tragedies. But there is hope in Christ. When we are down that is the very time we need hope," Chambers explained.
"Get to know Jesus Christ, let Him into your life," she said, adding that once she began praying every day and then started following her doctor's advice, she saw her depression recede and her outlook on life improve.
"Get lots of exercise, listen to good music, talk to one person every day and eat healthy food," she recommended.
Chambers said the best medicine for her depression has been to stay connected to her Lord every day.
"Even if it's just to pray 'help me get through the next five minutes,' it will made a huge difference," she stressed.
"And for each of the next five minutes throughout your day."