Friday, March 28, 2014
/lk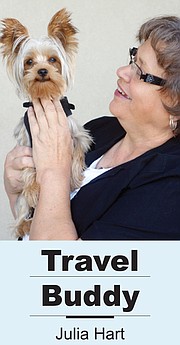 I've always dreaded going to community meetings, fearing more negatives and fewer positives will be brought forth during hours and hours of repetitive discussion.
I cannot tell you how many times I've walked away from a government-sponsored meeting wondering how I will get those hours back, knowing full well nothing good came of my time. I really hate to have to report on those kinds of meetings, even though it is necessary. The often hate-filled meetings are exhausting.
So I was pleasantly surprised this past Wednesday night at what hopefully will be an on-going series of town hall events to clear the air and open two-way lines of communication between our city administration and "we the people."
Wednesday's town hall meeting was advertised as a time to simply hear what I, my neighbors and friends have to say about their concerns for their community. I walked away feeling very optimistic about the future of my hometown.
Even though Buddy was not able to attend the gathering, given his dislike of loud, angry voices, he did sleep in the car waiting for me to tell him about the outcome of the two-hour event. I told him that for the first time in my more than 35 years of covering town hall meetings regarding city government and law enforcement issues, there wasn't a single angry voice to be heard. That is not to say there weren't many voices asking questions, voicing concerns about public safety, youth recreation, traffic issues and availability of city employees.
But perhaps for the first time ever, I came away believing the answers and promises given by our city's top administrators. I'm not talking about the city council, but the men and women you and I have regular interaction with; the people at city hall, in the school zones, at the swimming pool and parks, on the streets and at the police station.
When Sunnyside's new City Manager Don Day said he wants talk with and shake the hand of everyone he meets, I believed him. When Interim Director of Police Services Larry Dickerson said he would personally sign-off on all citizens' complaints about the city police department, I believed him. When Sunnyside Police Sgt. Scott Bailey said the police are here to serve and protect, I took him at his word.
Truly, for the first time in years, I feel as though the citizens of the community were not being "shined on."
For the first time in years I feel as though the cobwebs have been cleared out at the police department and throughout city government. I feel as though the lines of communication between the two agencies have truly been opened up to us.
But "we the people" also have a duty to our community leaders, as Buddy reminded me.
Even my furry little friend knows that it is the residents' responsibility to seek out representation for ourselves.
It's our duty to accept the challenge of learning more about how our civil servants do their jobs and why.
We learn more when we accept the challenge to attend citizen's academy, to take ride alongs with the police and to volunteer to serve on committees meant to give our leaders our ideas and input.
City Manager Don Day has asked us to accept that challenge. I plan to. Will you?