Friday, March 28, 2014
/lk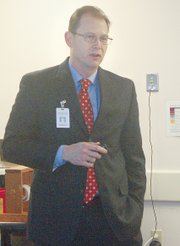 After two years as its chief executive officer, Sunnyside Community Hospital's John Gallagher had a good report to give the Sunnyside Daybreak Rotarians this past Wednesday morning.
Not only has the hospital added 28 new providers to the hospital's medical community, under his leadership, the hospital has added such services as a youth health care center located at Sunnyside High School, opened a 24/7 urgent care center and has staffed the hospital's emergency room with 24/7 hospitalists (doctors who just work in the hospital).
In addition, the hospital has revamped its leadership team, adding a vice president of development, an emergency room director and a chief of nursing operations.
Noting these are just some of the changes which have been made at the hospital, Gallagher said the employees are also working on developing in-house leadership skills and are working continually to improve quality of care.
As a result of those efforts, Gallagher said the hospital has received a number of prestigious awards during the past two years, including the Regional Hospital Quality Network Award for best practices and outstanding performance.
"We also received the Patient Safety Award. We were one of only three hospitals in the country to receive the award," he said.
In addition to the new medical care providers, the hospital is now also able to provide a variety of services which had previously not been available in the Lower Valley, he said.
Among those services are stereotactic breast biopsy, nephrology treatments and orthopedic anterior surgeries for hip and shoulders.
The hospital now also offers a local sleep disorder clinic, which will be having a grand opening in the near future, he added.

Looking ahead to the next two years, Gallagher said the hospital has plans to add a vascular care unit, a wound care-hyperbaric clinic and will expand its interventional radiology department.
Thanks to a $1.32 million grant, Sunnyside Community Hospital will also create a 10-bed mental health wing at the hospital to deal with both in and out patients' mental health needs, Gallagher explained.
With the deadline for health care sign-up looming, the hospital currently has 13 trained health care navigators stationed at each of its clinics and at the hospital to help patients who are in need of medical insurance, thanks to a $60,000 Navigators grant, Gallagher said.
"We have been able to sign up a whole bunch of people for medical insurance and have helped others navigate the state health care finder to find health insurance which will fit their needs," he added.