Tuesday, March 18, 2014
/lk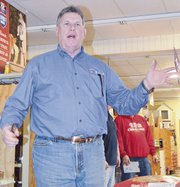 More people are raising chickens for pets, and many want fresh eggs.
Purina representative Mike Miller was on hand at the Sunnyside Bleyhl Country Store yesterday, explaining to those wanting to learn about raising the diverse birds how to go about doing so.
"Chickens make pretty good pets if you get the right kind," he said.
A silkie, for example, is a fancy breed often raised for showing and as a pet. Miller said the breed is also a moderate layer.
Leghorn chickens, he said, are good chickens to raise when seeking a good egg chicken. "But, they aren't as friendly," said Miller.
For meat, a Cornish cross is a good breed. They grow rapidly.
There are also ornamental chickens, which are small and make good pets.
Miller said it is important that chickens have a clean, dry environment that is draft free when getting started.
Chicks need a predator proof shelter. The bedding can be made of straw or pine shavings.
"It doesn't have to be anything fancy," said Miller, stating there are some who will create a shelter in their garage. Others will build a pen that consists of chicken wire, bedding and a way to block out drafts.
"Once you get the chicks home you want to pre-heat the environment to between 90 and 95 degrees," Miller said. The best way to accomplish that is using heat lamps that are suspended approximately 20 inches above the chicks.
The temperature of the enclosure can be decreased on a weekly basis, but it is important to monitor the environment to ensure it is neither too hot nor too cold.
If the chicks are too cold they will cluster together. If they are too hot, they will scatter to the edges of their enclosure.
Water, said Miller, is very important for maintaining the health of a flock. He said one quart of water should be available for every 25 chicks.
"Sometimes you will need to teach the chick to drink by dipping its beak," he said.
Elevating the water as the chicks grow is also important. Miller said the water should be elevated to the level of the animals' backs to keep the water clean and promote growth.
"Spacing is also important," he said.
With new chicks there should be between 0.8 and 1.5 square feet of space for every chick. As they grow, that space should be increased to prevent bad behaviors.
"Chicks can go outside once they get their feathers," said Miller. This usually occurs when the chicks are about five to six weeks old.
He said the heat lamps may still be necessary at night at this age.
Behavioral issues to look for when raising chickens include cannibalism and feather-picking. Miller said poor nutrition, overcrowding and bright lighting may be the cause of these behaviors, all of which can be corrected.
"Make sure they have plenty of space, ventilation, more feed and water," he said, suggesting scratch feed or a flock block for restless birds.
Egg eating is another bad behavior that should be dealt with. Miller said it often occurs by accident, but quickly becomes a habit of the bird. Suggestions for the problem include gathering eggs more often, providing adequate calcium and plenty of nest material. "The best solution is to get rid of the problem bird," said Miller.
Nutrition is important whether chickens are being raised in a coop or free range.
Free range birds still need fresh water and plenty of food, as well as shelter, said Miller.
He said the birds may be used for insect control, but making sure they have access to calcium and other nutrients can be easily accomplished by providing scratch feed.
However, there is not as much control over the diet of free range birds and the eggs may not be as easily found.
Miller suggests balancing the birds' time outside with time spent in a coop to better manage the diet of the birds.
He said all-natural layer feeds are best for egg production.
With chicks it is best to feed them a product that has about 18 percent protein in it for proper development. Purina has a feed called Start & Grow that has been developed for chicks up to 20 weeks old.
A pellet or crumble feed with 16 percent protein is suggested for layers and feed with 20 percent protein is suggested for meat birds.
"Scratch feed is what I call fun food…much like donuts," said Miller.
He said scratch feed should make up no more than 10 percent of a chicken's diet because it is not high in protein.
For game birds and turkeys, Miller said a diet that is high in protein is important. He suggests a product that has 30 percent protein when the birds are young. Purina's Flock Raiser can be fed to them when they are mature birds, he said.