Monday, March 17, 2014
/lk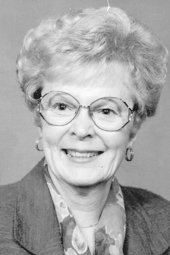 Zoe Loraine Howard, 88, of Sunnyside passed away on Thursday, March 13, 2014, in Sunnyside.
Zoe was born Dec. 10, 1925 in Portland, Ore., the daughter of Thomas James and Lottie Elizabeth (Kimball) Bean.
At the age of five, she moved to Weiser, Idaho, where Zoe lived until graduating from high school. She later attended the University of Idaho at Moscow, Idaho, where she affiliated with Pi Beta Phi Sorority.
On Aug. 25, 1946 she married Edward B. Williams in Weiser. The family lived in Avery, Idaho for 10 and –a-half years before moving to Sunnyside in September of 1957.
Her husband, Ed preceded her in death on Oct. 30, 1974.
She later married Gail R. Howard on Aug. 6, 1977 in Spokane.
Zoe worked 11 years at Sunnyside General Hospital as director of the medical records department and medical staff secretary. She was an accredited record technician and member of the American Medical Record Technician and Central Washington Medical Record Association.
Zoe was a member of Sunnyside Presbyterian Church, serving as a Deacon, and the Sunnyside Nouvella Club.
Zoe is survived by two daughters, Whitney Brown (Niels) of Sunnyside and Jody Nelson (and friend, David Lang) of Prosser; daughter-in-law, Marla Williams of Ellensburg; one brother, Donald Bean of Portland, Ore.; four grandchildren, Alicia, Staci, Mark and Kim; seven great-grandchildren, Hayden, Ryley, Trenton, Bishop, James, Sarah and Jacob; two step-daughters, Jodee Howard of Mt. Angel, Ore. and Heidi (Dennis) Graves of Salem, Ore.
Zoe was preceded in death by her parents, Thomas and Lottie Bean; her two husbands, Edward B. Williams and Gail R. Howard; and one son, Edward Williams.
Memorial services will be held on Saturday, March 22, 2014, at 11 a.m. at Sunnyside Presbyterian Church.
Those wishing to honor Zoe's memory may contribute to the Yakima Humane Society or to Sunnyside Presbyterian Church in Sunnyside.
If you would like to sign Zoe's online memorial book you may do so at www.funeralhomesmith.com.
Smith Funeral Home in Sunnyside is in charge of arrangements.