Monday, March 17, 2014
/lk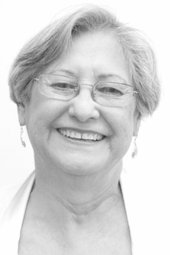 Cleotilde (Cleo) Cruz Nimietz, 72, of Federal Way and a former Sunnyside resident died on Wednesday, Feb. 26, 2014.
She was born May 17, 1941 in Asherton, Texas to Cresencia R. and Leon Cruz.
She is survived by three daughters, Alma Greinier, Ada Alvarado and Lisa McKinney; two sons, Reymundo Alvarado and Eliazar Gonzalez Jr.; and numerous grandchildren and great-grandchildren.
She was preceded in death by her parents; one sister, Maria Dawson; one daughter, Ava Snyder; and her husband, William Nimietz.
Cleo considered herself a Texan, she was of Spanish-Native American descent and deemed a Mexican American.
She was from a family of migrant workers, traveling from state to state, settling in Washington in 1951.
Cleo attended school in Sunnyside. She went to Yakima Valley College and became an LPN (licensed practical nurse) in 1966, working for nearly 15 years. Twice, she moved on to attend the University of Washington in Seattle from 1976 to 1979 to become a women's health specialist and a physician's assistant obtaining a Master's degree.
CIeo was the first Hispanic female to graduate from UW Medvet PA program, while having six children at the time.
She provided healthcare services for mostly low income, underinsured and migrants of all ethnicities throughout her entire career of 33 years. She provided health care services in Washington, Arizona, and (Southern) California.
Cleo said, "My advice to anyone is to get an education and do not forget where you came from!"
Some of Cleo's favorite passtimes were sewing blankets for all her children, grandchildren, and great-grandchildren.
She enjoyed antiquing and continuously added to her collection. She also avidly attended many of her grandchildren's sporting events, enduring many hot summer days at baseball, football and soccer fields, freezing cold hockey rinks and any dance floor.
Always traveling, she very much enjoyed cussing out ALL the other drivers on the road-heavy on the pedal.
Services will be held Saturday, March 22, 2014, at 1 p.m. at Smith Funeral Home.
Smith Funeral Homes Ltd. in Sunnyside is in charge of arrangements.
More like this story