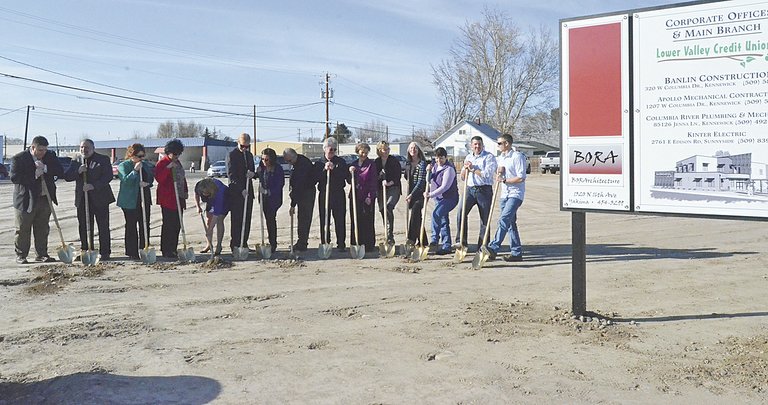 Friday, March 14, 2014
/lk
The site has been prepped and the first shovels full of dirt have been dug.
The construction of a new two-story, 10,000 square foot Lower Valley Credit Union branch office on Yakima Valley Highway can now commence.
LVCU board members and officials gathered yesterday (Thursday) for the groundbreaking ceremony.
"This marks a historic moment for Lower Valley Credit Union," said President and CEO Suzy Fonseca.
"Both the credit union's membership and staff are excited for the expanded service options this larger and more convenient location will provide," she said.
The new location will also serve as a corporate office. It will feature an internet hub for PC and printer access for its member-owners, a community conference room, a "Kid Zone" and a dual language ATM.
Fonseca said LVCU is growing, having been founded in 1952, and the new building is indicative of that growth.
The building design will include agricultural themes, reflecting the community, according to Fonseca.
The process of procuring a new location for LVCU's Sunnyside location has been years in the making, she said.
"Members have been very patient with us while we successfully established our Prosser branch in 2005 and then our Grandview branch in 2010, and now it's time for Sunnyside," said Fonseca.
Construction of the new branch office is set to begin on Monday, March 17.