Thursday, March 6, 2014
/lk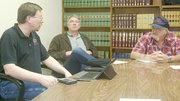 Well, at least the new soccer field on Homer Street won't be called Simpson.

Thanks to discussion by the Sunnyside City Council sub-committee on community development, the Homer Street soccer field may be named for the late Christina Knoth, a longtime community youth activist who breathed life into a lot of youth projects in the community.
The suggestion of Christina Knoth Park was chosen as first choice by the committee during its meeting held Wednesday night.

Committee chair Spencer Martin asked the Sunnyside Parks and Recreation Commission for its input on the six suggested name choices, which has been narrowed down from a longer list.
"We felt these six suggestions were worth discussing and we want to narrow the list to one choice to take to council," he explained.
Other names suggested for the soccer field, which was the senior project of Sunnyside High School graduate Nick Stremler, included Heroes Park, Character Park, Grizzly Park, Sunshine Park and Vista del Sol.
The committee settled on Christina Knoth after learning of her community service that focused on the youth of the community.

Sunnyside Community Development Planning Supervisor Jamey Ayling shared the information contained in the Knoth nominating letter, which included her commitment to the Sunnyside Boxing Club and the city's Community Accountability Board. She was also responsible for the annual organization of reading corners during Sunshine Days and at National Night Out events in the community.
A long time employee of the Washington State Migrant Council, Knoth was also responsible for writing the proposal to encourage the city of Sunnyside to annex Sunnyview Park. Knoth died this past July, just two weeks after her July 4th birthday. She was 61.
Martin said the committee will take its recommendation to the city council meeting for consideration on Monday, March 10.