Tuesday, March 4, 2014
/lk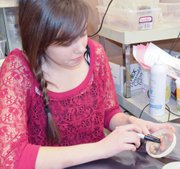 Excitement unrelated to the pending program opened the Sunnyside High School science fair awards ceremonies last night (Monday).
For reasons unknown, the SHS library went dark just as parents and science fair participants began arriving. Thanks to the quick thinking of SHS science fair participant Fox Rodriguez, the breaker for the lights in the library was quickly located and the ceremonies continued.
Led by the high school's first lady of local science fairs, SHS science teacher Joyce Stark, awards were presented in a number of categories, including prizes for the Chief Kamiakin Elementary School science fair teams mentored by Doris Matson. Her third grade team won first place honors for its age division. Her fourth grade class team earned second place honors. Their projects were judged separately during the annual high school science fair held this past Saturday.
A Washington Elementary School third grader, Bella Dekker, took first place for her science experiment regarding the amount of lead in imported candy.
While the third and fourth grade winners won't be able to compete at next week's Mid-Columbia Regional Science and Engineering Fair, to be held in Kennewick, the junior scientists will be able to take their science projects on to the State science fair to be held next month, according to Stark.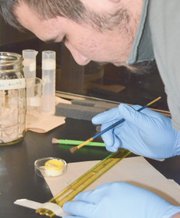 But owning the night for high school science honors was Zack Halma of Sunnyside Christian High School.
Halma took home the SHS Science Fair grand prize, an honor he has held on to for two years.

Earning the first place gold medal was Sunnyside High School's Cole Gardner with Juan Casas claiming the silver medal and Gardenia Contreras taking home the bronze. Each of them will now advance to the 59th regional science fair, to be held March 13-15, at the Columbia Center Mall.

Stark said the high school science fair attracted 60 projects, mentored by Stark and fellow science teacher Teri Alvarez-Ziegler.
Also advancing to the regional competition will be the 16 honorable mentions, who have earned enough individual points from the local fair to qualify.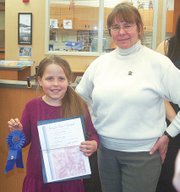 Honorable mentions went to Fox Rodriguez, Payton Sample, Celeste Garcia, Xavier Hernandez, Karla Villanueva, Jasmine Paxton, Brittany McCardle, Alexis Osuna, Hazeal Negrete, Eric Helsey, Bernaldino Rangel, Maria Alvarez, Jacob Robles, Rebecca Chavez, Yanelli Alcala and Isacc Perez.
The Chief Kamiakin first place team winners include Jocelyn Herrera, Jenny Lopez, Gerardo Sosa and Elizabeth Salazar. The second place Chief Kamiakin team winners include Alan Alonso, Adrian Loya and Areceli Vega.