Tuesday, March 4, 2014
/lk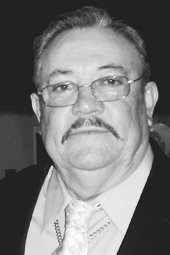 Luis Garcia Espindola, 72, of Sunnyside passed away peacefully on Saturday, March 1, 2014, at his home after a long courageous battle with leukemia.
Luis was born March 10, 1941 in Michoacan, Mexico.
Luis loved growing his own vegetables, raising animals, going to the livestock auction, sharing his wisdom and most importantly spending time with his family and grandchildren.
He is survived by nine children, Rosa Garcia, Ramon Garcia, Olivia Lepez, Jose Garcia, Luis A. Garcia and Maria D. Garcia, all of Sunnyside, Gerardo Garcia of Phoenix, Ariz., Maricela Alvarez of Yakima and David Garcia of Las Vegas, Nev.; 21 grandchildren and 11 great-grandchildren.
Luis will be joining his lifelong companion, Maria Garcia in Eternal glory.
He will be missed dearly and will live forever in our hearts.
Special thanks for the special care given by his son, Jose Garcia, daughter, Maria D. Garcia, Heartlinks Hospice nurses, Dr. Ha and all NorthStar Lodge staff.
Recitation of the Holy Rosary will be held today, March 4, 2014, at 7 p.m. at Valley Hills Funeral Home in Sunnyside. Funeral services will be held Wednesday, March 5, 2014, at 11 a.m. at Valley Hills Funeral Home in Sunnyside, with burial to follow at Lower Valley Memorial Gardens in Sunnyside.
Tributes can be left for the family at www.valleyhillsfh.com.
Valley Hills Funeral Home in Sunnyside is in care of all arrangements.
More like this story