Tuesday, March 4, 2014
/lk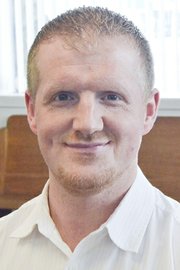 Age: 31.
Spouse: Jayme Lahue.
Children: Kaydence, 8; Evelyn, 1 mo.
Occupation and place of work: Prestige Care & Rehabilitation.
My favorite part of the Yakima Valley is... all four seasons.
When I was a child, I wanted to grow up to be... a professional football player.
First job I ever had was... landscaping in Anchorage, Alaska.
If a movie was made of my life, the actor/actress I'd want to play me is... have Ben Foster put on some muscle and he would do great.
The best gift I ever received was... the rest of the money that I needed to buy my 1970 Mach 1 when I was 18 from my stepdad.
The best piece of advice I ever received was... "Wake up" - 10th grade English class..."Do not go through life in autopilot."
My favorite dessert is... cheesecake.
One of my most memorable moments, besides getting married or having children was... firing up my 1970 Mach 1 and driving it for the first time.
If I could witness any event past, present, or future, I would want to see... the world living sustainably.
I'd love to learn how to... fly a helicopter.
The furthest I have been away from home is when I went to... Mexico for the weekend.
My favorite leisure activity or hobby is... working out and fitness training.
If I didn't have to worry about money, I'd spend my time... building sustainable gardens and being a bigger part of locally made items.
The one word that best describes me is... persistent.
If I could change one thing about myself it would be... always do what I know I need to do and not find a way to talk myself out of it.