Tuesday, March 4, 2014
/lk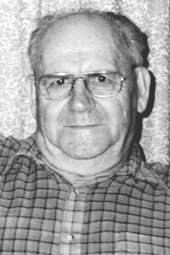 Avid fisherman Eithel Spradlin, 88, hung up his earthly fishing pole for the last time on Thursday, Feb. 27, 2014.
Eithel was born Sept. 30, 1925 in Mount Vernon, Ark. to Joe and Cora Spradlin. He continued to call Arkansas home until he was drafted by the U.S. Army during World War II. During the war, Eithel earned a good conduct medal, a victory medal, a European African Eastern Division medal and a Purple Heart for wounds he sustained in combat.
After his honorable discharge from the U.S. Army, Eithel moved to Washington state, where he would meet his life's companion, Jeanette Arends. Eithel and Jeanette were married Sept. 3, 1948. The couple lived in Sunnyside until Jeanette's death in 1999. Eithel went on to marry Alta Hodges and the two had many wonderful years together before her death in 2011.
Following his service, Eithel worked for Carnation Milk in Sunnyside for 35 years. He was always very proud of his job there. He worked hard and could always be counted on to help another person in need.
His favorite pastime was fishing. Eithel loved to go on family fishing adventures. His creative nature led him to turn an old school bus into a camper that he affectionately named "Lillie Bell." The family had many happy adventures in the camper, both traveling and waiting on the side of the road for Lillie Bell to be repaired. Eithel also loved to sing and whistle, and had a silly sense of humor.
He enjoyed hearing a good joke and enjoyed telling a good joke even more. He liked to tell people that he had wavy hair: "This hair on this side waves at the hair on the other side." Where cookies were concerned, he always wanted "wo ones," and if he was feeling better, he was, "More better."
During his lifetime, Eithel attended Calvary Baptist Church and the Church of God. Most of all, Eithel was a man of God; humble, but extraordinary. He will be missed.
Eithel is survived by his sons, Norm (Louise) Spradlin and Tom (Betty) Spradlin; daughters, Janet (Keith) Officer and Linda Self; numerous grandchildren and great-grandchildren; sisters-in-law, Myrtle Arends, Bert Arends and Ida Van Klinken; as well as many nieces, nephews and friends.
He was preceded in death by Jeanette and Alta; sons, Joe, Calvin and Ray; and grandson Jason.
"Well done, thou good and faithful servant."
Viewing and visitation will be held Wednesday, March 5, 2014, from 4 to 7 p.m. at Smith Funeral Home in Sunnyside. Funeral services will be held Thursday, March 6, 2014, at 10 a.m. at Smith Funeral Home Chapel in Sunnyside, followed by burial at Lower Valley Memorial Gardens in Sunnyside.
Those wishing to honor Eithel's memory may do so by making contributions to their local veterans' affairs.
Those wishing to sign Eithel's online memorial book may do so at www.funeralhomesmith.com.
Smith Funeral Homes Ltd. and Crematory in Sunnyside is in charge of arrangements.
More like this story