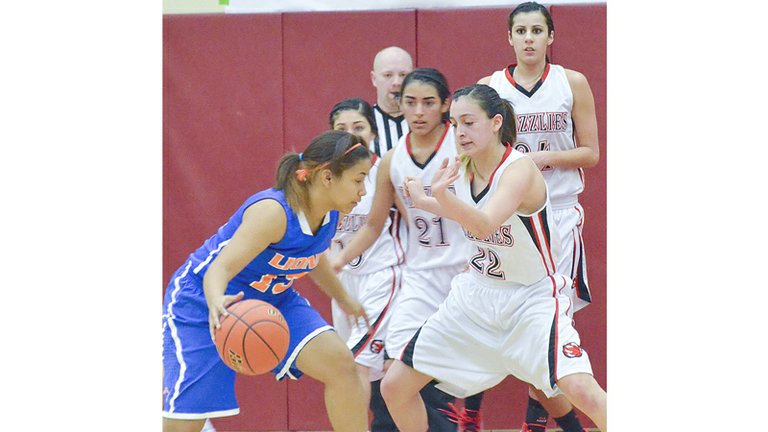 Monday, March 3, 2014
/lk
GIRLS PREP BASKETBALL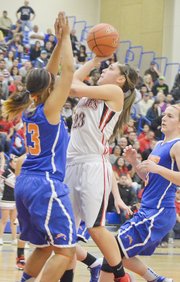 YAKIMA – Coach Rick Puente's assessment that all 12 girls on his roster contributed mightily in last Saturday's 61-45 State Sectional win over Auburn Mountainview couldn't ring more true.
"It was a good, overall performance by our entire squad," Puente said of the victory that propels the Lady Grizzly basketball team to the big dance.
That dance - an eight-team affair - is the WIAA Class 3A State Tournament, to be held this coming Thursday through Saturday at the Tacoma Dome. The last time a Sunnyside girls hoop advanced that far, back in 2002, the top 16 teams competed at State.
In knocking off, and ending the season of the Auburn Mountainview Lions (18-6) at Eisenhower's gym in Yakima last Saturday, Sunnyside received what arguably could be described as Jordan Rodriguez's best effort ever. The 5'8" junior poured in 17 points and grabbed 16 rebounds – both game-highs.
"It was a great overall performance by Jordan, one of her better games," confirmed Puente.
Rodriguez, with two steals, also led a spirited defensive attack by Sunnyside, which has been the Lady Grizzlies' calling card all season long. Forcing the Auburn club into committing 22 turnovers, Sunnyside converted those Lions' miscues into 17 points.
In contrast, Auburn Mountainview tallied just one bucket off the nine turnovers the Lady Grizzlies committed.
The idea in last Saturday's winner-to-State, loser-out game, explained Puente, "…was to come out of the gate being the aggressor.
"And we did that. Our defense created a lot of scoring opportunities for us," he said.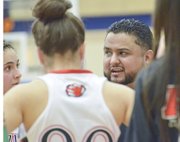 Sunnyside, for the most part, employs a seven-prong attack. Five of the tines were scissor-sharp Saturday. Rodriguez – along with Vanessa Alvarez, Emilee Maldonado, Natalia Bazan and Tiana Perez – combined to score 60 of the team's 61 points.
As well as those five played, and even though the stat sheet might not reflect it, Sunnyside also got a major boost from the trio of Jazel Trevino, Summer Hazzard and Jasmine Lua.
Normally, that trio doesn't see a lot of time on the court. But with four of Sunnyside's regulars in foul trouble – one fouling out and three others whistled for four infractions – Trevino, Hazzard and Lua were called upon to spell the headline-makers.
"Our bench, they came in and gave us some good minutes," said Puente, just over 10 minutes in all between those three reserves.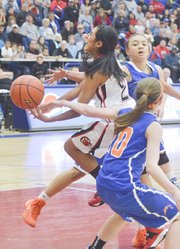 "They bought us some time…some very valuable minutes in a big, key game when some of our starters had to go to the bench.
"What's great about it is that we didn't miss a beat. Our reserves play with that same intensity, especially on defense.
"I think a lot of it, the reason we don't have a letdown when our reserves come in, is created in our practices. Our girls go hard in practice, all of them, and it helps prepare all of them when they are in the game," said Puente.
Sunnyside and Auburn fought to a 12-all stand-off in the opening quarter Saturday, although it appeared the Lady Grizzlies were going to take control when Perez hit a lay-up off a feed from Rodriguez halfway through the period, giving Sunnyside an 8-2 lead. The Lions, however, closed out the final three minutes and 40 seconds of the opening period with a 10-4 run, due chiefly to some less than spectacular shooting on the part of the Lady Grizzlies.
Sunnyside began to settle in early on in the second quarter, opening the stanza with a 5-0 spurt thanks to Alvarez, the lone senior on the club. Of late, Alvarez has been the first sub off the bench, having relinquished her role as a starter after missing two games because of a knee injury she sustained on Feb. 14. She had an offensive putback to start Sunnyside's second-quarter surge, hit 1-of-2 free throws on another putback attempt, then worked in another 2-point bucket from down low.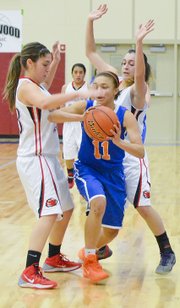 Alvarez scored her third field goal of the period from the baseline, upping Sunnyside's lead to 30-18 with just over a minute remaining before the half. Hitting 6-of-12 shots from the field for the game, she finished with 13 points, which complemented her four-rebound effort.
Besides the seven, second-quarter points Alvarez had, Rodriguez and Bazan combined for another 10, which sent the Lady Grizzlies into the half with a 31-21 advantage.
Sunnyside wasted little time in caging the Lions after intermission, opening the second half with a 10-4 run for its biggest lead of the game (41-25).
Alvarez kick-started the rally, taking a feed from Bazan for a bucket from under the hoop. Rodriguez then went coast-to-coast after notching one of her two steals in the game, following that lay-up with a 3-point bomb on Sunnyside's next trip back down the floor. After yet another defensive stop, the freshman Maldonado fired in another 3-point howitzer to complete the 10-4 run.
But, Auburn Mountainview wouldn't go away. The Lions, behind Maddie Taylor's team-high 12 points and another 8 from Allison Hammer, closed to within 45-35 heading into the final period.
Sunnyside fans were then drawn to the edge of their seats when Maddie Newell and Hammer, both seniors, opened the fourth quarter with back-to-back treys, pulling the Lions to within 45-41.
Unflustered, yet another of Sunnyside's trademarks this season, the Lady Grizzlies didn't flinch.
Bazan drove the lane on Sunnyside's next possession and nailed a basket.
Following a quick turnover, Maldonado – who finished in double figures with 11 points, had five rebounds and dished two assists – hit a runner in the lane.
After another defensive stop, inbounding the ball from under its own basket, Rodriguez spotted Alvarez just inside the 3-point arc and fired the ball to her, who in turn dropped it through the net. Alvarez added another bucket after two more defensive stops to increase the lead to 53-41.
With a little less than four minutes remaining, the 5'10" Perez came alive. The tallest player on Sunnyside's roster, Perez worked the paint to perfection, banging in three of Sunnyside's final four shots to help preserve the 16-point margin of victory. She totaled 9 points in the game, collected seven rebounds, had a block and dished three assists.
The one other bucket scored by the Lady Grizzlies in the waning moments came from Bazan, off a feed to the low post from Perez. The 5'6" Bazan finished her night with 10 points, two rebounds, four assists, five steals and one block.
"Our girls performed well," said Puente. "All of the girls were really pumped up for this one.
"It's been quite a ride."
In looking ahead to the State tourney opener in the Tacoma Dome this coming Thursday, the Lady Grizzlies (21-3) have drawn Bellevue. That game is scheduled for 5:30 p.m.
The Wolverines made it as far as the semi's at last year's State tourney, losing to Cleveland, the same team that bested Bellevue in Regionals a week ago.
Bellevue, offensively, is led by two underclassmen – 6'0" sophomore Shelby Canser and 5'9" junior Mandy Steward, who averaged 15.7 and 14.7 points per game this season, respectively.
"We know Bellevue is a tough team, very athletic, tall and long," said Puente. "And, like us, they like to press and make things happen with their defense.
"It's going to be an interesting match-up," he said.
The three other opening day games at the 3A State tourney include Cleveland vs. Lincoln at 3:45 p.m., Bishop Blanchet vs. University at 7:15 p.m. and Mercer Island vs. Wilson at 9 p.m.
Auburn MV 12 9 14 10 -45
Sunnyside 12 19 14 16 -61
2-PT FG – Auburn 11/31 (Maddie Taylor 5/7), Sunnyside 21/50 (Tiana Perez 4/6, Vanessa Alvarez 6/11, Jordan Rodriguez 4/8, Natalia Bazan 4/8). 3-PT FG – Auburn 4/16 (Allison Hammer 2/11), Sunnyside 3/20 (Jordan Rodriguez 2/5). FT – Auburn 11/23 (Kaitlyn Jensen 3/5, Sammy DePiano 2/2), Sunnyside 10/18 (Jordan Rodriguez 3/5, Natalia Bazan 2/2. RBD – Auburn 40 (Ellie Alfrey 11, Maddie Taylor 7), Sunnyside 47 (Jordan Rodriguez 16, Tiana Perez 7, Emilee Maldonado 5). TO – Auburn 22, Sunnyside 9.
Auburn Mountainview – Ellie Alfrey 2, Maddie Newell 4, Sammi DePiano 4, Brianna Zaragoza-Jones 4, Makaliah Johnson 5, Nicole Carter 1, Allison Hammer 8, Kaitlyn Jensen 5, Anastasia Finney 0, Maddie Taylor 12, Carlie Sahlin 0, Mariah McHenry 0
Sunnyside – Mireya Herrera 0, Vanessa Alvarez 13, Summer Hazzard 0, Jasmine Lua 0, Jazel Trevino 0, Aubrey Isquierdo 0, Natalia Bazan 10, Selena Rubalcava 1, Emilee Maldonado 11, Jessica Mendoza 0, Jordan Rodriguez 17, Tiana Perez 9