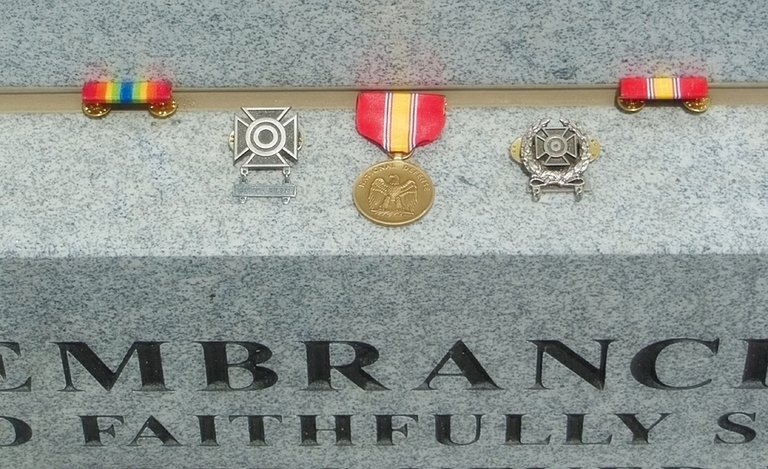 Tuesday, June 24, 2014
/lk
A mystery of sorts, one that doesn't necessarily need to be solved, has surfaced at Sunnyside's Jerry Taylor Veterans Memorial Plaza.
Greg Schlieve, the driving force behind the ongoing plaza upgrade and expansion, this past Sunday morning came across a small collection of military medals that someone had left at the downtown memorial.
"I saw that someone had left some medals by one of the walls," said Schlieve.
"This is what happens at the Vietnam Veterans Memorial in Washington D.C.," noted Schlieve, who's a decorated veteran from that war, himself.
Because so many people left medals at the D.C. memorial, eventually a museum was constructed there to house all the tributes.
Schlieve isn't quite sure what to make of Sunday morning's find at the Sunnyside plaza. But, if other veterans – or their family members – follow suit, "This might be the start of something big," he said.
Since coming across the small collection of medals and ribbons, Schlieve has been contacted by several friends…wondering and asking why any veteran would leave their medals at the downtown site.
"My answer to them is that they seem to feel that the memorial is some type of altar to their service and to their freedom," said Schlieve, who's just wrapping up his latest one-year stint as commander of the local American Legion post.
"Maybe they feel that they're making an offering of what is most important to them, and what they made a sacrifice to obtain, and what is a symbol of their own service…but is so much bigger than themselves…or the contribution they made while in the military."
Interestingly, the person who left the medals at the downtown plaza chose to put them on one of the granite walls in which several military veterans are listed as killed in action.
Schlieve indicated it is not all that uncommon for a veteran who returns home to believe they didn't offer up as much as the veterans who laid down their lives for their country. Perhaps, he said, this is the case with the person who left the medals at the Sunnyside memorial.
Maybe, said Schlieve, this veteran is simply acknowledging the sacrifice that the men listed as killed in action made, and offering them their medals to show the importance of their actions.
Or, said Schlieve, the person who placed the medals at the base of the wall could be a veteran who served in Iraq or Afghanistan, whose mental wounds of war are still fresh.
"Maybe the process of joining in with civilians, and civilian life, has not been easy," said Schlieve. "Maybe the veteran has come to realize that the American way of obtaining things that shine and glitter is a shallow way to live, and that serving life itself is so much more noble."
Schlieve added such a veteran may be trying to express his or her thoughts, but perhaps can't articulate them into words. Instead, the veteran may have chosen to express his thoughts by this act of leaving medals at the downtown site.
Or, pondered Schlieve, this could be an older veteran who has been touched by the memorial that is being constructed in Sunnyside.
"Maybe old feelings have surfaced, and he or she feels that an acknowledgement of those feelings and emotions needs to be acted on and honored in some way," he wondered.
"I can only make a guess as to what motivated this veteran," Schlieve admits.
"But it has also had a big impact on others, too. They, too, feel his or her pain; and they, too, want to acknowledge their newfound awareness.
"Life has a way of jarring us into reality at just the time when we are most prepared to accept it.
"Leaving some small pieces of metal and cloth on a piece of stone obviously has stirred up some strong emotions in some people, and they want to know what it is that is stirring within them," Schlieve continued.
"Thus, for a moment they are stopped in their tracks…as they take time to reflect on what they are witnessing, and what is stirring within them," he concluded.
The medals that now lie at the base of the granite wall in downtown Sunnyside…it's one of those mysteries that very well could be much more interesting if left unsolved.