Friday, January 31, 2014
/lk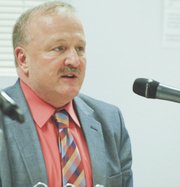 Sunnyside Schools Superintendent Dr. Rick Cole has been signed on for another three years. School board members approved his evaluation and contract last night by a vote of 4-0, with Director Michelle Perry abstaining.
Cole also presented his annual state of the schools address, celebrating the district's dramatic improvement in graduation rate and test scores. He also mentioned plans for future district expansion, including the need for a new high school in the next decade.
Cole's performance evaluation was positive, however Perry had issues with the tools the board used in the process. Perry said the evaluation was not adequate because it lacked input from anyone outside the board, including from Cole. She said she abstained from the vote for that reason.
The evaluation revealed few issues with Cole's performance, with the most serious being a lack of enforcement of the dress code for the district. The board gave Cole 11 areas of focus, including improving parental engagement, more detailed reporting to the board and opportunities for the board to contribute budget reviews.
Cole's contract with the district is for three years, starting on July 1, 2014 and running until June 30, 2017. Each year of the contract includes 209 work days. The first calendar year of the contract lists a salary of $178,277.
In his state of the schools address, Cole said graduation rates in Sunnyside have more than doubled since 2007, beating the national average.
"Think about that for a moment," he said. "Think of how profound an achievement that is. From one of the lowest graduation rates in our state to one of its highest in less than a decade. Our staff, students and community should take great pride in what we have come together to accomplish."
Cole also applauded the school board for its achievements, including being twice named school board of the year in Washington state.
He also mentioned the need to plan for the future of the district and a higher enrollment.
"Our current outdoor athletic facilities and infrastructure is not adequate to serve the needs of a competitive 4A high school," he said. "Also knowing we will likely need a second high school in the next decade to accommodate our growth, we will plan and propose a centralized athletic complex that can serve our current and future athletic needs."
He concluded his speech by thanking the efforts of school district employees.
"They are truly making a difference in the lives of those students who need them the most," said Cole. "And for that I cannot thank all of you and all of them enough."