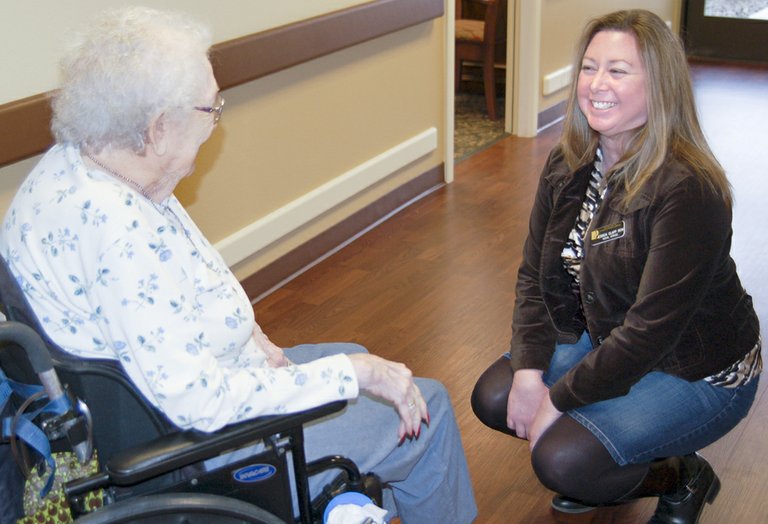 Tuesday, January 28, 2014
/lk
The new social worker at Prestige Care and Rehabilitation in Sunnyside cares for the people she serves.
Jessica Clapp is in charge of interviewing patients to do cognitive assessments, depression assessments and to determine if people in rehabilitation are ready to return to their homes. Her goal is to keep the quality of life high for all her patients.
"I love interviewing residents and finding out where they come from and what they've done," she said. "I love getting to know them. And I love giving a safe discharge so they can go home."
She admits that not all patients are able to return home.
"Sometimes it's sad," she said. "It's not all roses. Unfortunately, there are sometimes negative issues."
Clapp worked at what is now Toppenish Prestige Care for more than 13 years before transferring to the Sunnyside location about a month ago.
"It's hard to leave Toppenish," she said. "They are like family, no matter who they are. I'll go back and visit them sometimes."
At the moment her visits are fairly frequent. She's helping to cover the position at Toppenish along with the social worker from Grandview.
"The person at Grandview is moving to Toppenish, so they're hiring someone for Grandview," said Clapp. "But at the moment we're both covering the Toppenish job. It's like musical buildings."
Clapp said the extra workload has been a challenge, but because of the teams in place at all three buildings they have been able to keep up with the work.
"We couldn't do it without the great teams in place," she said.
Clapp was born and raised in Sunnyside. She went to EWU and earned a Bachelor degree in social work.
"Yes, I've done the same thing my whole life," she said.
She was hired just after she graduated by Sunbridge in Toppenish. The facility became Prestige in 2003.
Her family lives in Sunnyside. She has three elementary school age children. She and her husband co-own a vineyard with their parents. They raise apples, cherries and juice grapes.
It was the grapes that piqued the interest of one of the residents at the Toppenish facility.
"He loved Concord grapes," she said. "So I brought him juice from Welch's, where we sell our grapes."
She's had some good times in Toppenish. She said last year's Nursing Home Week events were particularly fun. They brought in a dunk tank and the employees manned it.
"The residents voted on who got to sit in the tank," said Clapp. "I think they were having a little too much fun dunking us. Some didn't even bother throwing, they just went up and hit the button. We all had a great time."
While she's sad to be leaving Toppenish, she's happy to now work where she lives.
"I love Sunnyside," she said. "I love the community."