Friday, January 24, 2014
/lk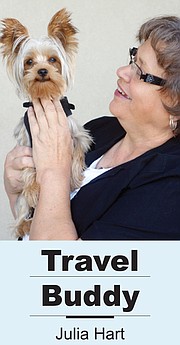 Learning to play nice with others has been a difficult road for Buddy. It is not that he wants to fight particularly, but he does appear to want to argue a lot. And he always wants to be right.
Like a lot of people I know, when he is not getting his point across he tends to announce it in a series of ever increasingly loud barks and yaps. I don't think Buddy likes being wrong about anything.
In the short time I have had my Yorkshire terrier, his disdain for cats has weakened a tad, but has not disappeared. The family cats have quit participating in his ongoing reign of terror. He is still incessant about keeping strangers from "his yard," but I have thwarted those encounters by introducing Buddy to the back yard. There he can run and bark to his tiny heart's content.
But it is the addition of yet a third dog to his world that has helped to quiet Buddy down the most.
We already had Georgia, our always patient 6-year-old Basset Hound, to play with Buddy. Although she outweighs Buddy by a good 40 pounds, that fact has not deterred my little friend. Georgia only fights back (err plays) until she gets fed up with Buddy's antics and wanders off to sleep it off.
Winston, the newest member of our family, is a different story. He likes to wrestle and play tug of war with Buddy for what seems like hours. Yet, Winston is a sweet "get along with anybody" kind of canine. Despite being an odd mixture of Chihuahua and Chinese Pug, he is not a yapper or ankle biter kind of dog.

I had a brief hand in training Winston three years ago. I was a bit worried when he came back to live with the family. I was concerned that Buddy might be jealous of or too aggressive with Winston. That never happened. In fact, just the opposite occurred. Winston seems to wear down Buddy's overly exuberant actions.
I think Buddy is finally acknowledging he is not in charge at our little house. I may be overthinking this, but I believe Buddy is beginning to realize he is part of a pack and the humans are in charge. I could be mistaken.
For now, I credit Buddy's semi-quiet behavior to Winston's calming influence.
I just hope that Buddy doesn't turn Winston and the reign of doggy terror begins again. I like sleeping dogs.