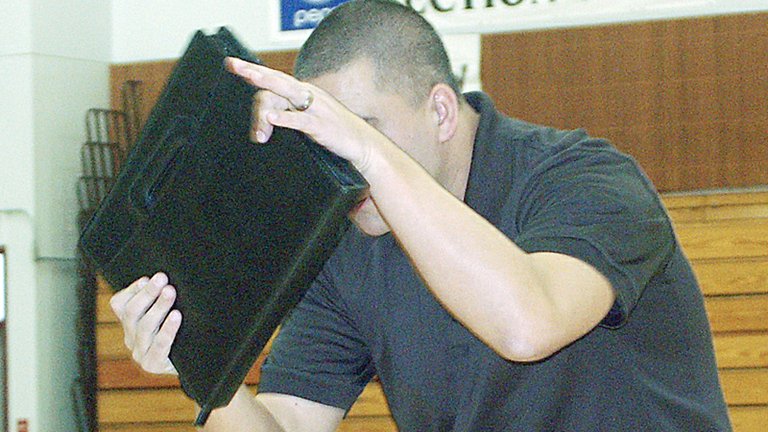 Monday, January 20, 2014
/lk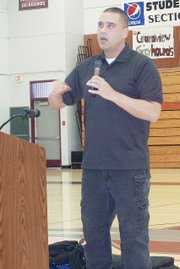 GRANDVIEW – School lockdowns are not working, according to Jon Ladines, a certified firearms instructor and school security activist.
Founder of Force Dynamics, Ladines believes school districts have to prepare for school shooting situations by being more proactive.
"We've been getting it all wrong for the past 20 years," he said.
Ladines presented a new strategy for protecting children and staff in the classroom to members of the Grandview School District last Friday, as part of the district's ongoing campaign to make its schools safer.
Statistics show that it takes 14.5 minutes for the police to arrive on the scene of a school shooting, plenty of time for a shooter to kill and injure a lot of people, Ladines said.
"But who are in the classroom? Who is in the office when the shooter comes on campus? Office staff, teachers and principals can all be taught how to change the shooter's situation," according to Ladines.
"We have trained our school district to prepare for emergency situations by going into lockdowns and barricading children in the classroom," he said.
"We've done this for 20 years and we're very good at it. But it is the wrong approach as incidents like the Sandy Hook Elementary School shooting has taught us," Ladines said.

The new approach involves training staff to protect children by being on the offense. Ladines said by training staff to take back their classrooms they can divert the shooter's attention from his intended victims. "Shootings may still happen," he said, "but the likelihood of fatalities will be lessened."
Ladines said classroom tables and chairs can be used to protect the children, as well as a baseball bat in the classroom. Even a pen, a binder or a pair of scissors can be a deterrent to the shooter, if used properly.
"Take the shooter by surprise," he said. "Change his perspective, and confuse him long enough for police to arrive," he said.
Ladines will be providing active shooter classroom and office scenarios trainings in the coming weeks at the Grandview School District, said Superintendent Kevin Chase.