Friday, January 17, 2014
/lk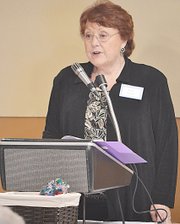 PROSSER –Unfortunate choices in her youth and two bouts of cancer all helped Betsy Nemitz of Pomeroy find her true identity in Jesus Christ.
Nemitz shared that testimony for the first time this past Monday during the Lower Valley Christian Women's Connection monthly luncheon meeting.
A crafter, quilter, card maker and Red Cross volunteer, Nemitz said she was blessed in that both encounters with breast cancer did not expand to her lymph nodes.
Nemitz told the luncheon group she gained peace and courage from Bible verses, like one that reminded her God's power is perfected in weakness.
Though as a child she attended Sunday School and made a decision for Christ, Nemitz said as she got older she went her own way and left God out of the decisions she made.
That led to her getting involved with alcohol while in college. It was also during that time of her life she became pregnant. That led to a failed marriage in which Nemitz says her husband physically abused her.
It was years later after she had remarried and her own child was involved in Sunday School classes that Nemitz said a visit from a pastor led to a transformation in her life. She said the pastor's visit led to her second husband giving his life to Christ and to her recommitment.
She said the trials of life – whether self-inflicted through bad choices or through illness – can point people back to God.
"The storms of life should remind us we can take shelter in His loving arms," said Nemitz.