Friday, January 17, 2014
/lk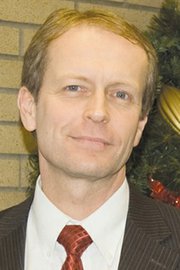 Due to confusion in some circles regarding the beliefs of The Church of Jesus Christ of Latter-day Saints (Mormons), I would like to clear up some of that confusion. This column will help explain our beliefs regarding God and our relationship to Him.
As stated in our First Article of Faith, "We Believe in God, the Eternal Father, and in His Son, Jesus Christ, and in the Holy Ghost." We believe that they are separate and distinct beings, although they are one in purpose.
We are the creation of God, yet we are more than simply His creation. We are the greatest of His creations, for we are His children, and are created in His image.
"And God said, Let us make man in our image, after our likeness....So God created man in his own image, in the image of God created He him; male and female created He them" (Gen. 1:26, 27).
God is our Father, the Father of our spirits (Heb. 12:9). He has a glorified physical body. Of all the titles He could have chosen, he asked us to call Him "Father." As Jesus taught in Luke Chapter 11, "When ye pray, say, Our FATHER, who art in heaven..."
As we have experienced the love of good fathers here on earth, imagine the love that a perfect Father in Heaven has for us, his children. He wants the best for us. He also has high expectations for us.
That is why He gives us commandments to obey. They are not given to punish us, but are signs of His love for us, and are given for our protection, much like earthly parents who give rules and limits for their children to keep them safe. Like young children who don't understand the reason for parental rules, we may not always understand the why behind the commandments, but we will be blessed for exercising faith and obedience to them.
As a perfect Father, he is often disappointed by us, His imperfect children. However, that doesn't mean that he stops loving us.
In fact, He prepared a way for us to overcome our imperfect natures and return to His presence. "For God so loved the world that he gave His only begotten Son, that whosoever believeth in him should not perish, but have everlasting life" (John 3:16).
Jesus Christ is the Son of God, our Savior and Redeemer, and there is no other name given under heaven whereby mankind may be saved. He also has a glorified physical body. He came to earth to live a perfect life, and by so doing, gave us a path to follow.
As he stated in the Book of Mormon, "Follow me, and do the things which ye have seen me do" (2 Nephi 31:12).
Jesus also came to pay the price for our sins through His suffering on our behalf in the Garden of Gethsemane and on the cross, making it possible to be forgiven for our sins, under the condition that we believe in Him, work to change our sinful ways, and follow Him.
The Holy Ghost is the third member of the Godhead, and is distinct from the Father and the Son, for he is a personage of spirit, which gives Him the ability to dwell in us. He is the Comforter, who guides us, teaches us and confirms gospel truth to us when we hear it. It is through the Holy Ghost that we can judge clearly between good and evil. The Holy Ghost gives us peace in a turbulent world by confirming to our souls when we are on the path that God wants us to be on.
Jesus, speaking of the Holy Ghost, said "Peace I leave with you, my peace I give unto you: not as the world giveth, give I unto you. Let not your heart be troubled, neither let it be afraid" (John 14:27).
One of life's greatest blessings is to know that God lives, is real, and is our loving Father in Heaven. He is not indifferent to us and our condition. We are important to Him.
The Savior told us that a sparrow would not fall to the ground without our Father noticing, and then stated "Fear ye not therefore, ye are of more value than many sparrows" (Matthew 10:31).
Equally important is the understanding that Jesus Christ is His Son, and our Savior, who can redeem us from the effects of our own poor decisions, if we are willing to accept His teachings and follow Him.
Finally, the Father and the Son have not left us comfortless, for they have given us the Holy Ghost, which helps us to feel and know that God and His Son are real, and that their teachings, sincerely followed, bring us peace in this life, and immortality and salvation in the next.
‑ LaDon Linde is bishop of the Sunnyside 1st Ward, The Church
of Jesus Christ of Latter-day Saints.