Wednesday, January 8, 2014
/lk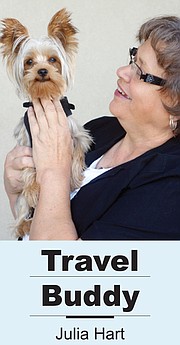 I may have mentioned on occasion that my Yorkshire terrier, Buddy, while adorable, is a bit of a terror.
He's been known to get into the faces of neighborhood dogs three times his size. He is absolutely convinced that no one is allowed to walk onto his turf. Make no mistake; delivery people have become very aware of Buddy's presence. I apologize to each of you.

Most of the time I find him to be a sweet canine companion, who follows me around, appearing to listen to my every word. He loves to ride in the car and observes everything in our path and "speaks" to all the animals he sees.
But like many bratty "children", Buddy is cutest when he is asleep and most playful just after he wakes up in the morning. The rest of the time? Well, let's just say he can be a challenge.
I will admit he is a single-minded critter, who rarely listens to my repeated commands to "come", which scares me quite a lot. He rarely, if ever obeys my pleas for him to stop barking.
Once he starts barking, Buddy will argue with me right down to a throaty little growl before he completely gives in to my wishes. Like so many individuals, Buddy wants the last word in all of our discussions, especially those regarding his questionable behavior.
It is really embarrassing that my six-pound, four-legged fur ball can so completely buffalo me when it comes to making him mind his manners.
I know, of course, when to let him outside for his business. He does a dance that resembles a circus dog high wire act near the front door. I know when he is hungry or when he needs a drink of water because he kicks his bowls around.
I'm thankful he doesn't chew on my shoes or get into the garbage when left alone.
Also on the positive side, Buddy is a great little watch dog, alerting me to every car or front door opening in the neighborhood, every dog bark or potential cat invasion.
But I think it may be time for Buddy and I to go to obedience school, although I fear one of us is destined to be an obedience school drop-out.
I am not a great one for routine but I know Buddy is in real need of learning who's the boss at the Hart homestead. Currently, Buddy appears to be in control.
I really want him to be a happy little dog, but I also want him to be well behaved in all situations.
But I'm the one who has to be trained first.
So far, Buddy has done a real good job.