Friday, January 3, 2014
/lk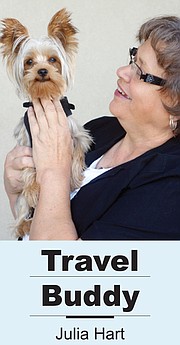 There are so many things in life which are simply not fair. For example, it is not fair that Buddy, who is so very clever, can't open the front door so he can go outside by himself.
It is not fair that when he is hungry, he must rely on his lazy human (me) to pour out his kibbles.
I try to explain that life is not about being fair. I tell him that some things never will be fair and that there truly is no way he is ever going to convince me to get up out of my recliner every time he runs to the door barking to go out. Sometimes that noise at the door is just the wind.
Buddy and I have had a hard time reaching a consensus on fairness. I tell my little dog that it is just one of life's little mysteries.
But there is one area where I am sure Buddy should agree with me. I have been explaining to Buddy that volunteering is a great way to help equal out some of life's injustices.
Recently, I read a quote to Buddy that someone must have given me a long time ago. It describes, at least for me, and possibly for Buddy what volunteering is all about and why we should become involved.
"Volunteering is the ultimate exercise in democracy. You vote in elections once a year, but when you volunteer, you vote every day about the kind of community you want to live in."

After Buddy and I took a closer look at the many opportunities we have for volunteering in Sunnyside, we both were frankly amazed. Even though Buddy is only interested in becoming the neighborhood volunteer to eliminate cats, I suggested we might want to start with something more humane.
I suggested he offer his services to help little kids learn how to handle pets. Wouldn't that be a great program to offer at the Sunnyside Parks and Recreation's community center?
Buddy could help seek out other volunteers to help with dances, crafts and sports programs at the community center. Buddy, admittedly a great little dancer, especially when it comes to twirling, is probably better suited to serve only as a pet surrogate, though. It really is more his style.
Currently, Buddy is considering, with a little persuasion on my part, to walk in next year's American Cancer Society Relay for Life or maybe help host a March of Dimes drive. I have suggested we start now so we're both in shape and prepared with good pathway manners for all that walking.
If he would just learn to relax a little, Buddy would be a great little volunteer companion pet at the local assisted living and rehabilitation centers. But I fear he is still too excitable for that gig. As sweet as Buddy can be, he tends to growl at people who interrupt his naps.
Life may never be just, but each one of us can do a little something right where we are to make life for someone in our community a little more equitable.
Buddy is ready to volunteer. Who's with him?