Thursday, February 27, 2014
/lk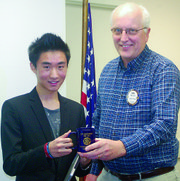 Coming from a Chinese school of 10,000 students to Sunnyside High School with an enrollment of a little over 1,600 has been quite a change for International Exchange Student program participant Wei Ximu.

Wei, who is attending Sunnyside High School, likes the smaller class sizes, after years of attending school with 60 students to a classroom, where the students stay put and the teachers move from room to room.
The 17-year-old Chinese exchange student said good students in his home town of Yancheng attend school from 6 a.m. until 9 p.m., and "…they go to school on Saturdays."
Wei, speaking to the Daybreak Rotary Club this past Wednesday morning, said he plans to eventually attend an American college, where he hopes to study design.

"I like American high school," he said. He said his SHS math and art classes are similar to the courses he took in primary school. "The English (classes) is more difficult," he said.
He said the children in China only learn the written English for the tests they must take in order to advance grade levels, so most don't speak the language. He attended special schools to learn how to speak English.
Wei said Yancheng is known as the salt city and the city boasts many lakes and parks.
"It is located near the (Yellow) sea," he explained.
He showed slides of the area near his home, a high rise which houses 10,000 people. The elevators start on the sixth floor, he said. His family lives on the 19th floor. "More people live above us," he said.
The entrance to his city of more than 8.2 million people boasts a statue of a red crown crane with red deer, which are native to the area surrounding the city. "The red crown cranes are very rare," he said.
Besides the usual things foreign exchange students like about America, like the food and the extra free time, Wei said he really likes the environment.
"The air here is very fresh," Wei said.
Wei, who arrived in Sunnyside last August, will return home to China in June.