Tuesday, February 25, 2014
/lk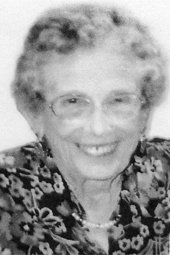 The angels in heaven rejoiced as Dorothy E. Phillips, 91, of Grandview went to be with her Lord and Savior on Saturday, Dec. 7, 2013.
Dorothy's time on earth started Feb. 19, 1922 in Watsonville, Calif. to Christopher and Madeline Rich. She was raised in California and many years later made her way to Grandview with her husband, Emmitt Carriger.
Dorothy loved staying busy. In Grandview. She worked for Grandway Pharmacy and for Anderson Motor Co., both of which she thoroughly enjoyed. Years after her retirement people from the community would still remember her from those places of employment and that would thrill her when they would say hello.
Always on the go, Dorothy spent her time worshipping with her Christian family at the Church of Christ, fishing, gardening, camping, dancing with her husband, Gene Phillips, eating out with her Friday night girls and playing games with all her friends and fellow members from the Grandview, Sunnyside and Prosser senior centers. There wasn't a game Dorothy wouldn't play, she loved them all. Her nickname was "Twerpy" and she always said, "They wouldn't call me that if they didn't like me."
Dorothy had wonderful times traveling to California to enjoy vacations with her children and their families. Her family had a way of spoiling her rotten, and she loved them dearly. She would fondly talk about learning to play UNO, watching movies and helping Manuel deliver avocados. Although she loved visiting them all, she was always glad to get back to Grandview, which she considered her home.
A celebration of the life of Dorothy will be held Friday, Feb. 28, 2014, at 11 a.m. at Grandview Church of Christ, 116 Fir St.
Desert Lawn Memorial Park and Crematory in Kennewick was in charge of arrangements.