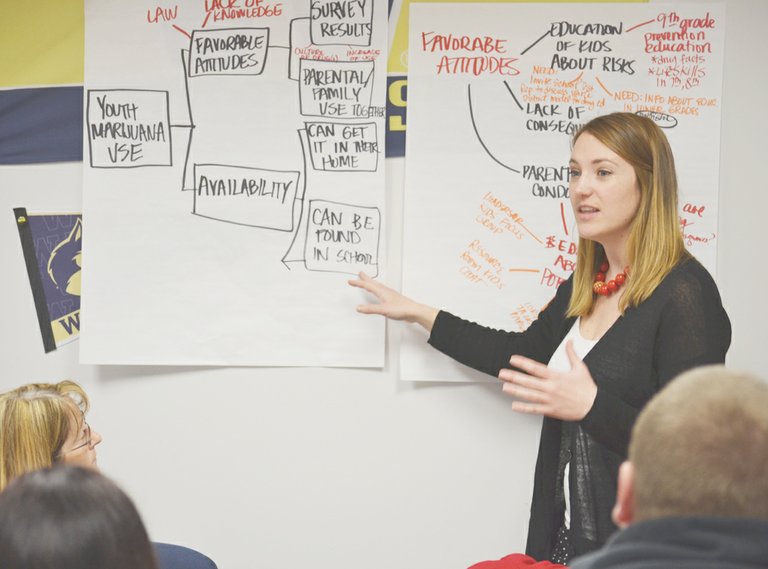 Friday, February 21, 2014
/lk
Stashing supplies in bathroom stalls and hiding in the high school auditorium curtains to get high are some of the ways Sunnyside teens are trying to cover up marijuana use on campus.
That's according to testimony yesterday, Thursday, during the Sunnyside United coalition's monthly meeting.
The information was shared during a nearly hour-long brainstorming session on getting a better handle on youth drug/alcohol use in the Sunnyside community. The idea is to not only look at interventions that are needed with youths and parents, but to find solutions.
One of the coalition's board members is Pastor Cameron Garcia of Oasis Community Church. He told his colleagues part of the issue is a cultural battle that minimizes the damage of alcohol and marijuana on young people.
Another board member, Marissa Howat, guided yesterday's discussion. She said recent surveys reflect that marijuana and alcohol are not only available for teens and that attitudes are lax, but that parents are among the providers.
Also, Coalition Coordinator Cathy Kelley noted large alcohol parties for youths are taking place more and more in rural Yakima County, away from city police and potential neighbors.
Sunnyside United will discuss results of that community survey in greater detail during a work group meeting on Thursday, March 27, from 4 to 6 p.m. at the Sunnyside School District board room.
One of the points that came out of yesterday's discussion is that it is not enough to tell youths that marijuana and alcohol are bad for them. There also needs to be an educational focus showing them how using will deter from their life goals, whether it be athletics, college or career.
Also a talking point from yesterday is conveying to parents and adults the consequences they face in providing alcohol and marijuana to teens.
Sunnyside United's next board meeting is Thursday, March 20, from 10 to 11:30 a.m. in the Sunnyside School District Board Room.
Between now and then officials with the local agency pledged to do "homework" in bringing back to the next meeting possible solutions and outreach ideas.