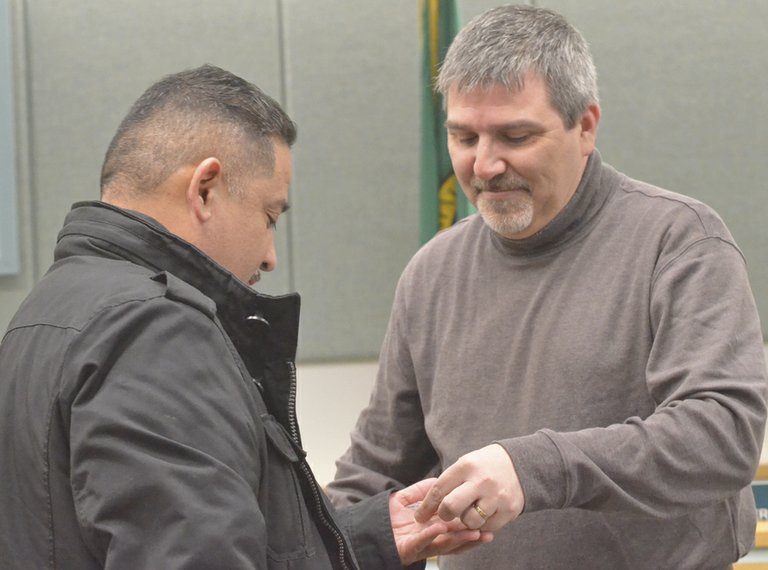 Wednesday, February 12, 2014
/lk
Sunnyside City Manager Don Day's appointment of Robert Barker to the Sunnyside Civil Service Commission created a bit of a stir this past Monday evening.
Because the City Council wasn't called upon to confirm the appointment, as has been done in the past, Councilman Jason Raines questioned the proceedings.
Mayor Jim Restucci responded that because the municipal code related to the role of council was revised at the Jan. 27 meeting, he believed council confirmation for a civil service position wasn't needed.
"The city code was changed last week," Restucci said.
Turns out, after questioning City Clerk Delilah Saenz at Monday's meeting, the change in municipal code was scheduled for a second reading that night, to be followed by formal adoption.
Following further discussions - which included the secretary to the civil service commission, Anna Bullock, explaining the interview and background check procedures used before a new commission member is appointed – the council voted 7-0 to confirm Day's appointment.
Later in the meeting, when attempting to finalize the municipal code amendment concerning the council's role in city operations, Raines questioned why the council will no longer be confirming appointments to the civil service commission. Restucci indicated there should never have been a confirmation process. He said Washington state's RCWs were written with the intent of taking city councils out of the process.
Restucci explained the council is prohibited from being involved in such appointments because civil service board members answer to the city manager, not the council. He said the civil service commission is autonomous, and it is the person who hires and fires police chiefs and fire chiefs that is responsible for such appointments.
Stating he was "reluctant to give up power to unelected bureaucrats," Raines asked for – and received – copies of the RCWs detailing the topic at hand. Reading through the state codes as the council moved on to other agenda items, Raines eventually concluded that city councils are prohibited from taking part in the process of appointments to the civil service commission.