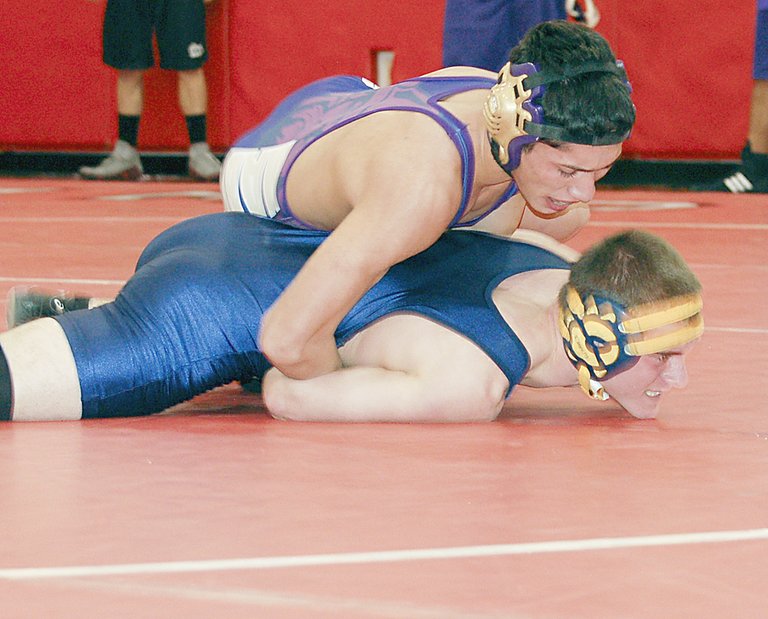 Monday, February 10, 2014
/lk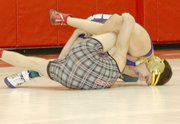 GRANGER – Five Mabton wrestlers will compete this coming Saturday at Regionals in Zillah and Wahluke.
One Lady Vike, Noemi Gutierrez, has a match left to finish from this past Saturday's District competition because her opponent, Jenaiya Guillen of Sunnyside, reached the maximum five bouts in Granger. The two 112-pounders will compete tomorrow (Tuesday) to determine third and fourth place honors. The pair will meet in Sunnyside before moving on to Regionals in Wahluke.
Leading to that bout, Gutierrez pinned Guillen in 47 seconds to open Districts this past Saturday. The Lady Viking was ahead 6-0 at the end of the second period in her second bout, against Maria Mondragon of Ki-Be. However, Gutierrez got cinched up for a pin in 5:17.
That loss moved Gutierrez into the consolation brackets. She battled Granger's Christina Blanco and was winning her third bout of the day 4-0 before getting the Spartan on her back at the 5-minute mark to move into the third/fourth place match against Guillen.
Mabton's Jesenia Meza (130 lbs.) pinned Wahluke's Roxann Rincon in 3:13 before subduing Martha Zurita of Connell in 1:50. In the Lady Vikings' third match, she suffered an injury to lose by default to Grandview's Desiree Zavala to end the season.
"Jesenia did really well for not having been on the mat since Dec. 30," said Mabton Coach John Kilian.
Cassandra Moreno of Mabton had a good day, but came up short in the 100-lb. weight class.
She won a 10-9 decision over Highland's Casie Churchill in the opening round of action, lost by pin to Connell's Maria Enriquez in 2:45 and in her third match pinned Lyndie Castro of Wapato in 2:25. In the final bout, Moreno was pinned by Ellensburg's Vanesa Violetta in 4:48.
"It was a back-and-forth match," Kilian said of Moreno's final match.
In boys action, Mabton's Gabriel Mireles (106 lbs.), 126-pounder Emiliano Rodriguez, Salvador Urbina (195 lbs.) and Isaac Velasquez (195 lbs.) all advance to Regionals in Zillah.
Mireles opened Districts this past Saturday with a 5-0 decision over Nick Sommerville of Highland. The Viking lost to eventual District champion David Peterson of Highland by pin in three minutes, dropping into the consolation rounds.
Mireles, in his third bout of the day, pinned Bailey Haller of Naches in 12 seconds.
"Gabriel wasn't messing around," said Kilian.
Mireles' final bout was against Austin Simmons of Naches for third/fourth place honors. Simmons won a 5-3 decision over Mireles, earning the Viking fourth place honors.
Rodriguez also earned fourth place honors after pinning Jake Birch of Naches in 1:45, losing by pin to eventual champion Victor Almaguer of Granger in 2:51, pinning Leroy Miller of Goldendale in 3:49 and losing a major decision (11-2) to Kasey Johnson of Zillah.
Earning third place honors was Urbina. He pinned Kolton Ruggles of Zillah in 19 seconds in the opening round of action. Urbina lost a major decision (13-1) to eventual champion Reggie Sargeant of Goldendale to drop into the third/fourth place bout against Velasquez.
Urbina got the second period pin at the 1:42 mark.
Kilian said there were just five competitors in the 195-lb. weight class. As a result, Urbina and Velasquez had just three bouts apiece.
Velasquez opened the District meet with a loss by pin in 4:54 to Augustin Paredes of Zillah. The Viking defeated Ruggles in the consolation round by pin in 1:56 before taking on Urbina and earning fourth place honors.
As a team, the Vikings earned 52 points for seventh-place honors. Zillah won the District tournament with 270 points.