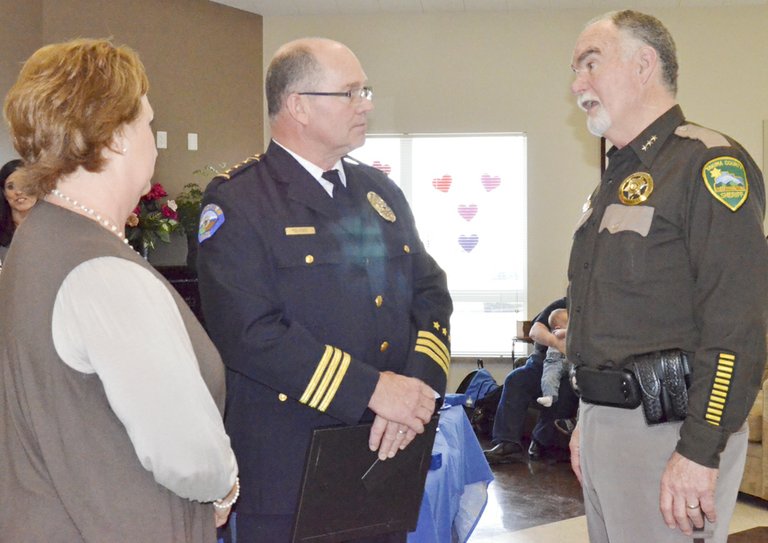 Monday, February 3, 2014
/lk
GRANDVIEW – Friends, family, city employees and fellow law enforcement officials gathered last Friday to celebrate the 42 years Grandview Police Chief Dave Charvet has served the community.
At Charvet's retirement party, Yakima County Sheriff Ken Irwin and Sunnyside Police Commander Phil Schenck said Charvet has been "…a great partner in law enforcement."
Irwin said he has high praise for Charvet, who has provided stability.
Charvet began his career with the Grandview Police Department at the age of 20 on June 15, 1972.
He attended Yakima Valley Community College after graduating from Grandview High School. While at college, his older brother was enrolled in the law and justice program, which captured his interest.
"I decided to apply for the program to see if I liked it," said Charvet, stating he caught the law enforcement bug soon after.
After earning his degree, the Grandview police chief, Ted Wolfe, encouraged Charvet to apply with the Grandview Police Department.
"I told him I wasn't old enough," Charvet said, noting he wasn't yet 21-years-old.
Wolfe didn't accept that as an excuse and urged Charvet to take the civil service test.
Charvet has worked for the department since.
He was tapped for the police chief's position after just 10 years on the job. "I moved up through the ranks," Charvet said.
Police Chief George Miller, Wolfe's successor, named Charvet to the position upon his retirement.
There have been many changes throughout the years, but the one constant has been Charvet's love for his community.
He will keep busy in his own retirement years. He is a Yakima County Fire District #5 commissioner, a hearing officer for the LEAD Drug Task Force, owns his own cherry orchard, is a volunteer for Volunteer Chore Services and is an active member of his church. His wife, Kelley, said he will have his share of responsibilities.