Wednesday, April 30, 2014
/lk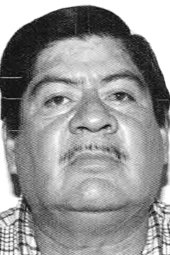 Gabriel Gutierrez, 61, of Sunnyside passed away on Saturday, April 26, 2014, in Sunnyside.
Gabriel was born Aug. 23, 1952 in Pihuamo, Jalisco, Mexico, the son of Pablo Gutierrez and Eloisa Ceballos.
In 1978 Gabriel married Lucina Ortiz Lopez in Colima, Mexico.
He worked in the Lower Valley for 34 years doing agricultural labor for companies which included Arnold Luther, Johnson Foods, Evans, Washington Fruit, Mountain View Farms and many others.
Gabriel had a passion for cultivating his own garden, which consisted of peppers, tomatoes, watermelons, cucumbers, melons and squash for the past 15 years.
Gabriel is survived by his wife of 36 years, Lucina Gutierrez; his only son, Gaby Gutierrez; and more than 55 "God-children" that will always cherish their "Padrino."
He was preceded in death by his parents, Pablo Gutierrez and Eloisa Ceballos.
Gabriel was known for his personality and way of joking all the time. He will always be remembered by everyone he knew.
Viewing and visitation will be held Friday, May 2, 2014, from 3 to 8 p.m. at Smith Funeral Home Chapel in Sunnyside, with recitation of the Holy Rosary at 6 p.m. A Mass of Christian Burial will be held Saturday, May 3, 2014, at 10 a.m. at St. Joseph Catholic Church in Sunnyside, with burial to follow at Lower Valley Memorial Gardens in Sunnyside.
Those wishing to sign Gabriel's online memorial book may do so at www.funeralhomesmith.com.
Smith Funeral Homes Ltd. and Crematory in Sunnyside is in charge of arrangements.
More like this story