Thursday, April 24, 2014
/lk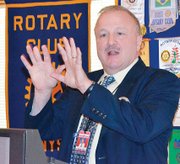 A few years ago, the Sunnyside School District developed a list of 100 priorities, aimed at improving the education of students.
Many of those priorities remain the same because, according to Sunnyside Noon Rotary speaker Dr. Rick Cole, superintendent of schools, the district continues to see them as important.
"Sunnyside School District is involved in re-branding itself," Cole told the Rotarians this past Monday.
He said re-branding and addressing the needs of the students go hand-in-hand. The school district, in meeting the goals it establishes for itself, believes its "brand" must reflect the achievements of recent years.
"The graduation rate has been at the top of the list (of priorities)," Cole said noting that Sunnyside High School had a graduation rate higher than 85 percent last year.
The special education graduation rate was 93 percent in 2013.
"Of course, we have kept the second lowest tax rate in Yakima County," Cole noted, stating the district has made it a priority to keep taxes low.
The district has improved the number of advanced placement courses available to students, as well as other learning opportunities like college in the classroom to improve academics and challenge students at every learning level.
After highlighting a number of other priorities, Cole asked the Rotarians to name priorities they might have.
Many of the Rotarians praised the school district for the established list. There were a few who said it is encouraging to see the newer, more modern facilities and equipment that enable a positive learning environment for today's students.