Thursday, April 17, 2014
/lk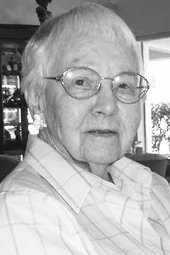 Hazel Woodall Griswold, 103, of Federal Way and a former Sunnyside resident went home to be with her Lord on Saturday, Jan. 11 2014, at the home of her daughter, Kathy. She had a long healthy life and was ill for a very short time before passing.
She was born Sept. 3 1910 on an Oklahoma homestead.
She married Miller Woodall in 1929 and they made their home in Sunnyside, where they raised their family.
Hazel was a long time employee of the Sunnyside School
District from early 1940 as a cook at the Wendell Phillip's school, secretary at Lincoln school and finally one of the original cooks at the Washington school. She retired from there in 1972 at the age of 62.
She eventually moved to the Seattle area to be near her family. She was reacquainted with William Griswold and they were married in 1985. They traveled many places in the world.
She is survived by one son, Wendell 'Woody' Woodall of Renton; two daughters, Kathy (Gordon) Carlson of Federal Way and Carolyn Sullivan of Tacoma; two nieces and one nephew; 13 grandchildren, 28 great-great-grandchildren and eight great-great-great-grandchildren.
She was preceded in death by her son, Roy Woodall in 2007.
A memorial service was held Saturday, Jan. 25, 2014, at Lake Washington Methodist Church (her home church for many years) in Kirkland.
She was loved so much by so many family and friends. We were all blessed to have had her with us for 103 years.
More like this story