Friday, April 11, 2014
/lk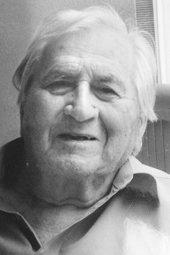 Ruben Richard Breitling entered into eternal rest on Thursday, March 27, 2014 at Maunalani Nursing Center in Honolulu, Hi. He was born the ninth child of 11 on Oct. 9, 1919 in Golden Valley, ND to Phillip Fredrick and Christina Ruffine (Klaus) Breitling. He was raised and attended school in Montana.

On May 23, 1941 he married his sweetheart, Phyllis Maxine Wellman just prior to heading off to Europe for the WWII invasions. He was drafted into the Army on Oct. 16, 1941 and served in the Army 82nd Airborne in the 505 Parachute Regiment, making all four combat jumps and fighting in the "Battle of the Bulge." He was wounded as they were making their way across the Rhine River, just seven days before the war ended.

After being discharged from the Army, Ruben and Phyllis continued to make their home in Montana. During this time, they added a son, Matthew R. Breitling. In 1960, they moved to Nampa, Idaho where Ruben worked for Intermountain Gas Co. until his retirement in 1980. From there they moved to Oregon until the time of Phyllis' death, when Ruben moved to Sunnyside/Prosser area. In 2012 Ruben moved to Kailua Kona where he enjoyed the sunshine, the birds and the company of visitors.

Ruben is preceded in death by his wife, Phyllis, his son, Matt, his parents Phillip and Christina, four sisters, Ella Blodgett, Gladys Frasch, Mabel Herman, and Alvina Breitling; six brothers, Theophil Breitling, Arndt Breitling, Eldor Breitling, Clarence Breitling, Elmer Breitling and Roland Breitling. He is survived by many special nieces and nephews, including great nieces/nephews and great-great nieces/nephews.
The family would like to give a very special thank you to Islands Hospice and Maunalani Nursing Home for the wonderful care in Uncle Ruben's finals days and hours.
In lieu of flowers, donations can be made to either Islands Hospice at 1301 Young St, Ste. 300, Honolulu, Hi 96817 or to Calvary Lutheran Church at 804 S. 11th St., Sunnyside, WA 98944. A memorial service will be held on Saturday, June 7th at 2 p.m. at Calvary Lutheran Church in Sunnyside.
More like this story