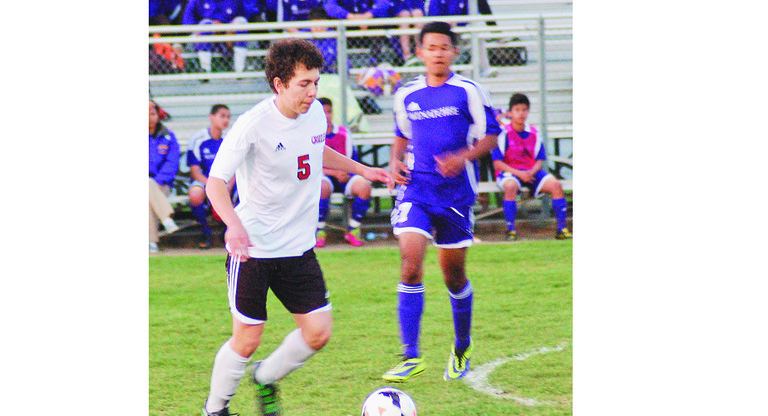 Wednesday, April 9, 2014
/lk
A Noe Meza goal in just the second minute of play against Wenatchee proved to be the winner in the Sunnyside Grizzly soccer team's 2-0 victory at home last night.
Tuesday's CBBN league opener saw Sunnyside tack on its second goal in the 21st minute when Christian Chavez gathered in an errant kick from the Wenatchee keeper and found the back of the net.
The Grizzlies enjoyed a 14-to-3 advantage in shots on goal, but were unable to score the rest of the way.
"Throughout the game we had plenty of opportunities, we just weren't able to be efficient," said Sunnyside Coach David Guevara. "It was a matter of being a foot off or hitting the crossbar."
Despite the lopsided advantage in shot attempts, Guevara said the match result could have gone in Wenatchee's favor. "They got some quality shots against us," he said.
Sunnyside (1-0, 7-0) hosts Eastmont this coming Friday.
Guevara cautions the Grizzlies can't take the Wildcats (2-5) or any CBBN foe for granted.
"It's always been a mantra for this league that it's a playoff game every night," says Guevara, who shares coaching responsibilities with Sergio Licona. "At any given time you can be knocked off. The last thing you need is to lose a game you should have won."
As the CBBN's only 3A team in a field of 4A schools, every win is vital for the Grizzlies as playoff seeding will be based on winning percentage.
Taking care of business in league play, then, will decide if Sunnyside gets to host a playoff game or has to hit the road.
And that won't be easy as the top-10 ranked 3A Grizzlies still have to tackle the likes of league opponents Davis and Eisenhower, which are both ranked among 4A soccer programs.
"Every night is an important game for us," Guevara said.