Friday, April 4, 2014
/lk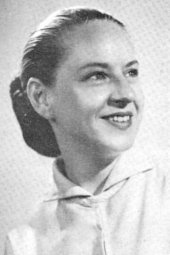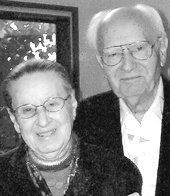 Muriel Louise DeBusk Borchardt, 97, of Sunnyside passed away on Wednesday, April 2, 2014, in Yakima.
She was born Oct. 28, 1916 in Collins, Iowa. She was the only child of John DeBusk and Margaret Minear DeBusk, and grew up on their Iowa farm.   While attending the American Institute of Business in Des Moines, Iowa after high school, she met a handsome young medical student, Arthur Borchardt from South Dakota.  They were married in 1940, and moved to Lidgerwood, N.D., where Art practiced medicine during the war. 
They moved to Seattle in 1946 and then to Sunnyside in 1948 with their baby daughter, Judy. The family grew with the addition of daughter Kay in 1950. For the next 34 years, she was at her husband's side thru the building of Sunnyside General Hospital and a medical center. She kept the books and accounting for his medical practice. 
Muriel was active in the Sunnyside Presbyterian Church as one of the first female deacons, served as president of the women's auxiliary for the Washington Osteopathic Medical Association and enjoyed her hobby of parliamentary procedure. 
She and Art were active Republicans and served as campaign chairmen in the area for Gov. Dan Evans. 
World travelers they were, too, enjoying trips to India, where they had many friends, to South America and to Russia on a People to People tour with their friend, Ralph Monroe, former WA Secretary of State.
She was the consummate "horse show mom," traveling with her husband and daughters all over the western states to Arabian horse shows in the 1960s and 1970s, where their Arabians won regional and national titles. Through it all, she was the ultimate homemaker, keeping a beautiful home and cooking wonderful meals for her family and friends and acting as host family for several Rotary foreign exchange students over the years.
She is survived by two daughters, Judy and Kay; one grandson, Adam; and one great-granddaughter. 
Muriel was preceded in death by both parents; and her husband, Art in 2009. 
Our sincere thanks to Dr. Christopher Clark, to Memorial Hospice and to the staff at Chesterley Court Memory Care for their kind care in Muriel's final years.
Cremation arrangements were handled by lifetime friends, Smith Funeral Home in Sunnyside. Private family services will be held at a later date.
Memorials in her name may be directed to the scholarship fund at American Institute of Business at http://www.aib.edu/give.
Those wishing to sign Muriel's online memorial book may do so at www.funeralhomesmith.com.
Smith Funeral Homes Ltd. and Crematory is in charge of arrangements.
More like this story