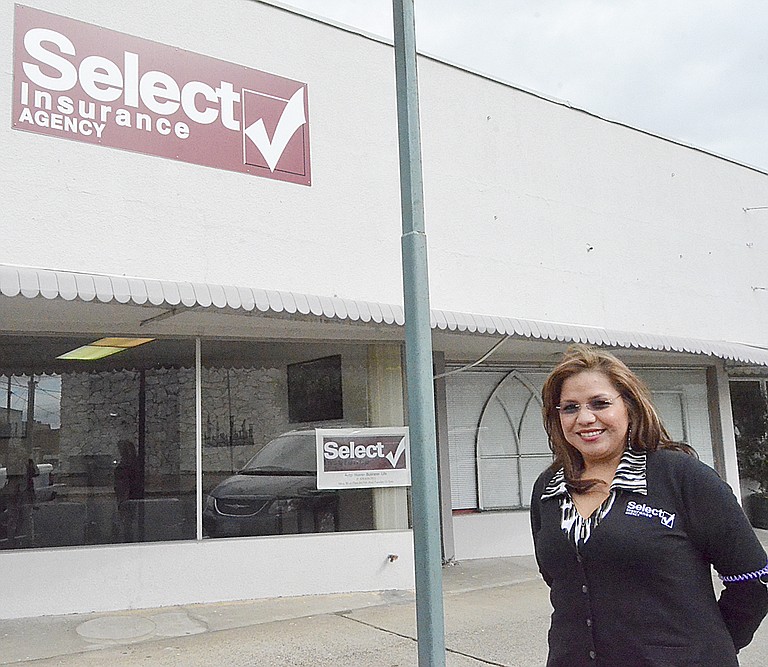 Tuesday, September 24, 2013
/lk
Leticia Sandoval opened for business in Sunnyside yesterday (Monday).
She said her insurance agency, Select Insurance Agency, was a dream for several months.
Sandoval is familiar to Sunnyside residents because she worked for Mid-Columbia Insurance prior to its closing.
She had to wait 18 months before branching out on her own, however. She said she had a no-compete clause in effect when she left the other agency.
"I wanted to honor that agreement," said Sandoval.
She said selling insurance wasn't always her plan in life.
Sandoval wanted to become an accountant and was working toward her Bachelor's degree when she first developed an interest in serving the community as an insurance broker.
She grew up in Sunnyside and likes having the ability to work with members of the community.
"They become your friends," said Sandoval.
Select Insurance Agency is a brokerage for home, life, auto and disability insurance. Insurance carriers include PEMCO, Traveler's, CNA, Allied and other insurance companies.
Sandoval said she is currently awaiting signed contracts with other well-known companies. "It should be just a few more days before I am authorized to provide quotes for other big name companies," she said.
"I am just excited to finally be open…I told my husband I was almost as excited as I was when I got married," said Sandoval.
She said opening an insurance agency and obtaining the contracts with various carriers was a learning experience.
"They provided training," Sandoval said, adding she enjoyed the experience of learning about the various insurance products available through the carriers.
"That was the fun part," she said, stating she enjoys the learning process since it gives her the knowledge and skills to better serve clients.
Sandoval, when meeting with clients, is able to compare insurance rates to provide the customer with a variety of quotes from which to choose.
"It's rewarding work…you develop relationships," she said.
Select Insurance Agency is located at 626 East Decatur Avenue in Sunnyside. The office is open from 9 a.m. to 6 p.m. on Monday, Wednesday, Thursday and Friday. On Tuesday the hours of business are from 11 a.m. to 7 p.m.
For phone inquiries, call 839-7922.
‑ Jennie McGhan can be contacted at 509-837-4500, or email JMcGhan@DailySunNews.com