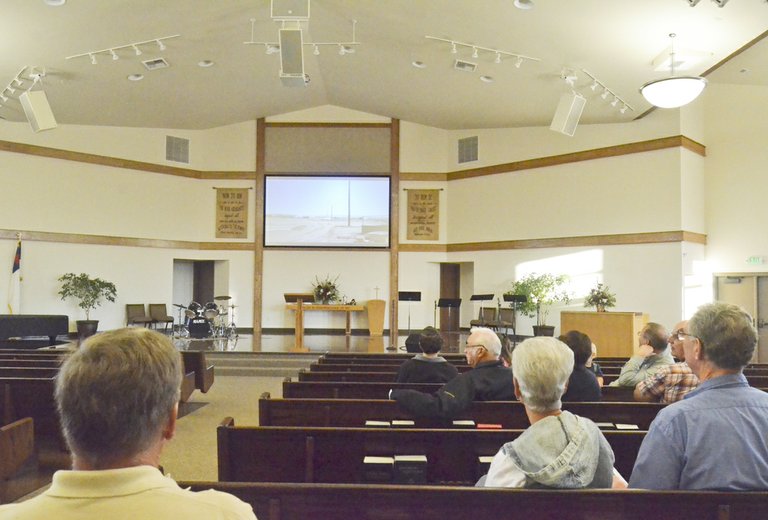 Friday, September 20, 2013
/lk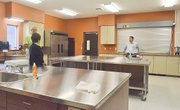 A tour of the newly constructed Sunnyside Christian Reformed Church was recently provided to members of the Sunnyside Daybreak Rotary Club.
The club learned that the more than 36,000 square-foot church building was the culmination of more than 100 years of church growth.
Ed Werkhoven, a member of the church and the Rotary club, said members of the church began gathering in Sunnyside in 1910 and the first church building was constructed on Cemetery Road in 1932. It consisted of just one room.
In 1936 the church, having experienced growing pains, constructed a large graystone building at the corner of East Franklin Avenue and South Eighth Street. That corner will soon be home to a newly constructed fire station.
It was in 1962 that Sunnyside Christian Reformed Church found a third home at the corner of Franklin Court and South 16th Street. It was built in 1962, Werkhoven said.
In 1975, he said, members of the ever-expanding church began discussions about how additional space might be added to the building on South 16th Street. The church purchased a couple of nearby buildings over the years, giving its leadership team office space.
The plans for the just constructed facility on North 16th Street began in 1999 when a task force was formed to determine a solution to the space issues continually being encountered.
In 2004, the congregation voted to relocate, said Werkhoven.
That's when task force team members began seeking a location for a new building.
The following year, the church purchased 20 acres from George Johnson Sr. on North 16th Street. That is the location of the newly constructed church building.
The first service was held in the new building earlier this month, which is eight years after the property was purchased.
Werkhoven said the church members were intent on keeping the construction dollars "local." The contractor for the project was Mountain States Construction and several subcontractors on the project also operate their businesses from Sunnyside.
"This was a tremendous undertaking with not only monetary contributions, but volunteer hours, as well," said Werkhoven.
He said, "We believe local churches are the hope for the future of our community."
‑ Jennie McGhan can be contacted at 509-837-4500, or email JMcGhan@DailySunNews.com