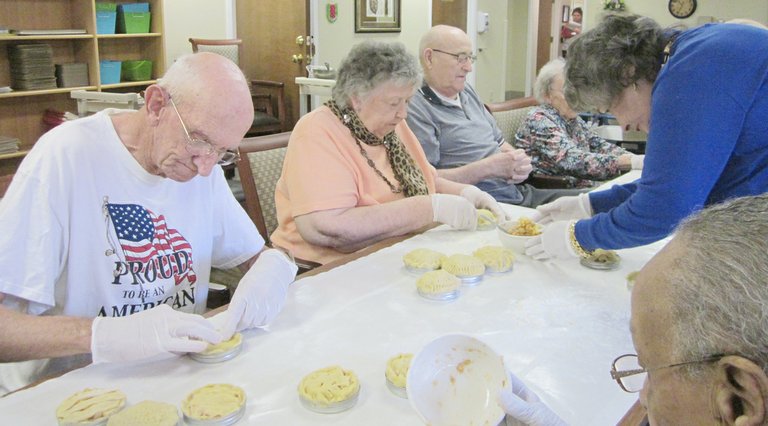 Wednesday, September 18, 2013
/lk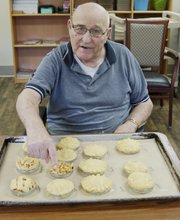 "Two of the ladies who participated had never made a pie," said Sales Executive Cheryl Larrick at an event last week at Sunnyside's Sun Terrace Assisted Living.
Residents made small apple pies last Thursday. Debbie Smith, senior administrator, said the pies stood for America and for spreading happiness.
"It's also about going back to basics," she said.
Using Mason jar lids as pie pans, the residents assembled the pies with dough prepared by the kitchen.
"We have a 'never fail' pie crust we use," said Larrick.
The event was also part of National Assisted Living Week, which this year had a theme of "homemade happiness."
The residents were proud of their efforts and amused by the small pie sizes.
"It was a lot of fun," said resident Robert Kelley. "I can't wait to eat one."
Sun Terrace Never Fail Pie Crust
Mix together: 1 egg, 1/2 cup water and 1 Tablespoon white vinegar.
Add: 4 cups flour, 2 cups Crisco butter-flavored short-ening, 1 Tablespoon sugar, 2 teaspoon salt, 1/2 teaspoon baking powder. Mix until combined.
Roll out into pie pan. Makes two crusts.