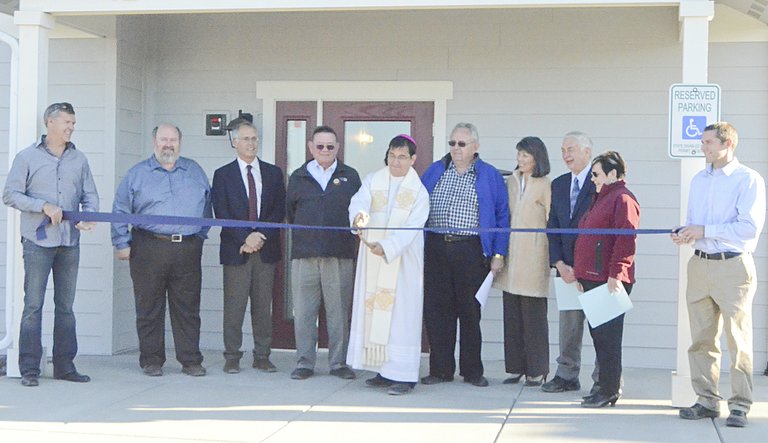 Wednesday, October 30, 2013
/lk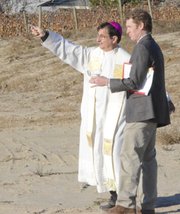 GRANDVIEW – Partnerships and the spirit of cooperation were the overall message heard by those celebrating the completion of a multi-family housing complex and the groundbreaking for seven new homes yesterday (Tuesday).
Those gathered for the celebration in the presence of a number of dignitaries were proud of all that has been accomplished in the effort to provide affordable housing in Grandview.
"We pride ourselves on partnerships," said Grandview Mayor Norm Childress.
Also taking part in the event, which included a groundbreaking ceremony for seven single-family homes and the dedication of Sor Juana Ines Court, were a number of representatives who made the development possible.
Childress said creating partnerships with organizations like Catholic Charities Housing Services, which is responsible for the two developments, helps communities prosper.
He told those gathered there were a number of partnerships developed to improve the community and the quality of life for residents in Grandview. The Sor Juana Ines Court apartment complex was constructed on Euclid Road, which the city had been trying to improve for a number of years. With the combined efforts of the city and Catholic Charities Housing Services that road improvement project was made possible.
Bryan Ketcham is the director for Catholic Charities Housing Services. He told those gathered that partners working together to make affordable housing available to communities throughout the local diocese include public entities like HUD and the USDA.
Private organizations like Banner Bank also help make the dreams of the many families living in the housing developments come true.
"Affordable housing fundamentally changes lives," said Ketcham.
The Most Reverent Joseph J. Tyson, the seventh Bishop of Yakima, told the crowd projects like those in Grandview are unique and inspirational. He said the projects are an example of the Catholic Church's message, "We are here for you."
State Representatives John McCoy and Sherry Appleton, and former Rep. Norm Johnson all provided insight into why they are invested in ensuring the state supports projects like the housing developments in Grandview.
"We need a lot more housing like this…there is a housing shortage at all levels," said McCoy.
Ultimately, McCoy said, providing housing that is affordable to those living across the state is about respecting all who chose to call Washington state home.
Johnson said, "Washington D.C. could learn a lot from Washington state."
Childress said he is proud of all that has been accomplished. He said Grandview has a lot of low-income residents, which is not ideal for a municipality.
However, he is proud "…we play the cards that are dealt to us…we leverage the money we have."
That, said Childress, is what gives the city of Grandview the ability to improve the quality of life for community members.
The dual celebration included a blessing from Tyson, tours and a dinner reception.