Tuesday, October 29, 2013
/lk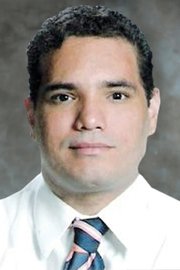 Rodrigo Alfaro, M.D. has joined the team at Sunnyside Community Hospital.

Dr. Alfaro specializes in nephrology, the study of kidney care and treatment of diseases of the kidneys.
He will be providing services at his clinic, Valley Regional Nephrology, located at 2705 E. Lincoln Ave. in Sunnyside and at Sunnyside Community Hospital.
Dr. Alfaro's services include the diagnosis and treatment of kidney diseases, including electrolyte disturbances and hypertension. He also offers the care of renal replacement therapy for dialysis and renal transplant patients.
Dr. Alfaro is board-certified in internal medicine. After his residency in internal medicine at Texas Tech University, he completed his Fellowship in Nephrology at the University of Louisville.
Born in El Salvador, Dr. Alfaro is fluent in four languages, including English and Spanish.