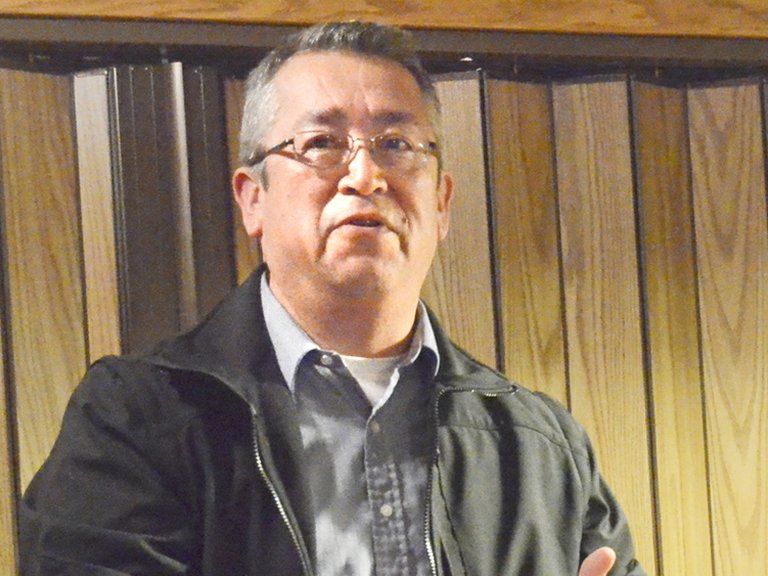 Friday, October 25, 2013
/lk
The Sunnyside Republican Club this morning (Friday) had an opportunity to hear from several candidates vying for city council positions.
Giving their perspectives regarding city matters were incumbent Don Vlieger and his opponent, Spencer Martin; incumbent Theresa Hancock and challenger Robert Perales, as well as incumbent Francisco Guerrero.
Martin spoke first, stating he wants to improve communication within the city government. He also believes there needs to be a balanced approach when looking at the needs of the community.
He said, "There have been mailings that say we arrested our way out of the (gang) problem."
That's not entirely so, according to Martin. He said it took more than police arrests to reduce crime, particularly gang crimes, in Sunnyside.
He said teachers, school staff, school resource officers and security all helped the effort to reduce gang activity, cutting off recruitment.
"It's a multi-pronged effort," said Martin.
As a candidate for the district 3 seat now held by Vlieger, Martin said he wants to also take a closer look at the needs of the police department. He is concerned about overtime costs and said, "If it would be less expensive to hire a new officer, that is what needs to be done."
Vlieger said he is proud of the reduction in crime within Sunnyside.
"I've never been more optimistic in the 25 years I've lived here," he said, stating crime has dropped significantly and he believes Sunnyside's mandatory crime-free rental housing program has contributed to the current crime figures.
Vlieger said adequately staffing patrols has also contributed to reduced crime.
Citing this past Wednesday's high speed chase and arrest, Vlieger said, "Officers contained and controlled the area."
Another factor he believes helps contribute to Sunnyside's success at reducing crime is the police department's crime analyst, whom he said has provided police information to better target criminal activity.
In addressing the city's budget issues, Vlieger said the general fund is healthier than the Sunnyside City Council was led to believe just a few months ago. That's because funds that belonged in the general fund have been "…put in their proper place."
Speaking of the budget, Guerrero said his goal is to keep the city "in good financial shape."
He said it is important that the city address issues as they arise without going into debt.
"That's my area of expertise," said the banker and Sunnyside City Council District 4 incumbent.
Guerrero said economic development is important and he wants the city to explore how it can be more business-friendly, looking at regulations and city codes that may hinder development and improvements to downtown.
Hancock, too, is concerned about ensuring the city council takes a balanced approach when looking at the city budget.
"In June, we had an ending general fund balance of $834," said Hancock, who is a member of the city's safety committee and believes the current general fund may be stressed when the city hires a new police chief.
Perales is challenging Hancock, stating his primary concern is the police department.
"I began hearing the police may be a hot issue…I believe law enforcement and emergency services are of the utmost priority," said the current Granger police chief.
He said he has seen the results of reductions in staffing levels and doesn't want Sunnyside to revisit the past.
Perales commended the current staffing levels, stating Wednesday night's carjacking and shooting incident may have had different results if Sunnyside didn't have five patrol officers and Granger didn't have two officers on duty.
To attract businesses, Perales said, "…crime must remain low."
He said, "Crime issues are connected to businesses wanting to be in the community."
Sen. Jim Honeyford was the last to speak. He provided an overview of I-517, which he described as a "…mixed bag…you need to look at the initiative and study it."
Honeyford said the initiative extends the timeline for the petition process, makes it a crime to interfere with those gathering signatures and makes it legal to gather signatures on any public sidewalk. It also requires cities and counties to place an initiative on the voter's ballot when enough signatures have been gathered.