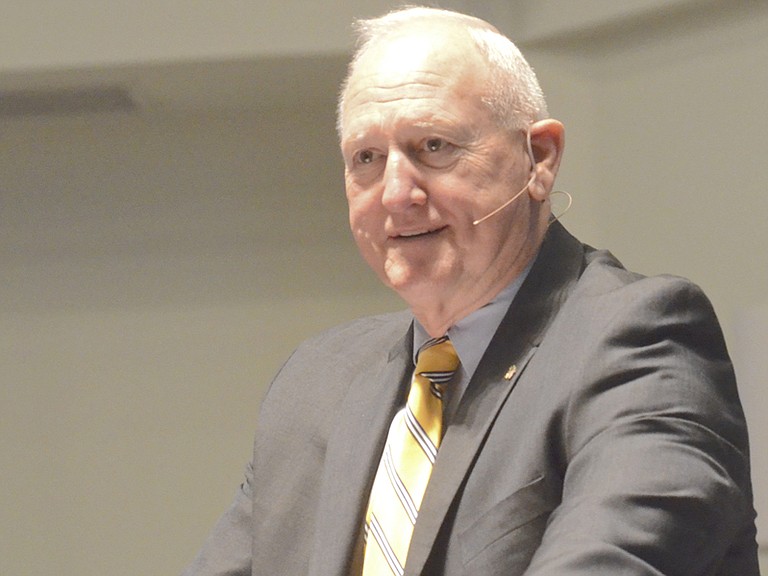 Friday, October 18, 2013
/lk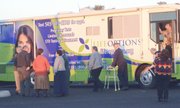 Retired Lieutenant General Jerry Boykin has fought in many battles throughout his career as member of the U.S. Army's Delta Force.
None of those battles, he says, compare to the one he is now fighting…the battle to stop what he believes is genocide involving unborn children.
At last night's fall fundraiser for Life Options, Boykin was the featured speaker, warming the crowd of potential Yakima Valley contributors, joking, "The first thing I noticed (when I arrived in Sunnyside) was something smells out there."
He was referring to the smell of the dairies, but countered his joke, explaining, "Coming from West Virginia, it reminds me of home."
The audience to which he was speaking erupted in laughter.
Moving on to more serious matters, Boykin talked about why he joined Delta Force, the special forces unit of the U.S. Army. "I wanted to save American lives," said the man who commanded the unit made famous for its involvement in Black Hawk Down.
"I wanted to save the oppressed."
Boykin said he is retired from the Army, but he is still intent on saving those who are oppressed. He is intent on saving the lives of babies.
"The soul of America is being killed," said Boykin.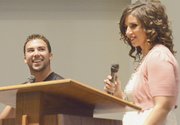 He said his role in the special forces prepared him for the current state of warfare.
Abortion, said Boykin, dates back to Margaret Sanger, who established organizations that became what is now Planned Parenthood.
In the early 1900s she contributed to legal actions that made contraception possible, but she also supported eugenics and was firmly convinced that the black population was inferior to the white race. She wanted to exterminate blacks, starting the Negro Project.
"She was of the same ilk as Adolf Hitler," said Boykin, stating Sanger also sought to hide her intention of eliminating the black population.
He said abortion is often promoted as a women's rights issue equal to the civil rights movement, without consideration to the rights of the children yet to be born.
"That angers me," said Boykin, stating he knows what the civil rights movement looked like and he doesn't believe abortion meets that standard.
Boykin said two persons involved in the pro-abortion movement, Dr. Bernard Nathanson and Norma McCorvey, both became pro-life activists later in life. Nathanson was a doctor who performed many abortions and was a founding member of the pro-choice movement. McCorvey was the woman behind Roe v. Wade.
Nathanson helped convince the nation that abortion was a woman's right. But when the ultrasound machine was invented, he realized his error, calling abortion a holocaust.
Boykin said McCorvey has been fighting to overturn Roe v. Wade since coming to regret helping the effort to win the Supreme Court ruling.
"But, we are winning," Boykin said of the effort to save the lives of the unborn. He said there has been more pro-life legislation in the past two years than ever before.
He said, "The tide has turned, especially in light of the recent criminal case against Dr. Kermit Gosnell and the butcher shops being exposed."
Gosnell's criminal case this past year revealed the atrocious practices of abortion clinics. Boykin said many states were compelled to begin closer inspections of them.
There are now 26 states that require abortion clinics to be regulated like ambulatory care centers, according to Boykin.
Additional legislative action, like the fetal pain bill that recently passed in the U.S. Congress, is being brought forward. That bill was sponsored by Congressman Trent Franks of Arizona.
"We are gonna win this…we are winning it and most Americans are pro-life," said Boykin, adding, "It's time to move forward boldly.
"It's time to bring about the end of genocide…it's time for the third Great Awakening."
Other speakers at the Life Options fall fundraiser included Syden Grove and Sheila Stutzman. Grove spoke about how Life Options got its start in the Lower Yakima Valley and her involvement in the effort.
"I was sometimes counseling young girls from my car," she said.
Stutzman gave testimony regarding how her life was transformed by the efforts of Life Options. The organization offered her support when she had no one else, and now she has a 24-year-old son whom she is proud of because of the people who loved her when nobody else would.
Her son, Joshua, spoke, "My mom met Ron Stutzman at a Life Options event…her life was changed by Life Options and I am here."
The mission of Life Options is to "Save Mamas and Babies," according to CEO Jan McDonald. She challenged those attending the fundraising event to contribute to the mission, and they did.A total of $103,500 was pledged by night's end.
‑ Jennie McGhan can be contacted at 509-837-4500.