Friday, October 18, 2013
/lk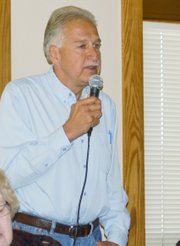 David Van Klinken was leaving Afghanistan after trying to help farmers plant different crops when he realized he needed to do more to help others. It led him to spend seven years in Nicaragua.
Van Klinken told the Nouvella Club members on Thursday that after being a farm manager in Washington for 25 years, he felt a tug in his heart to reach out to the rest of the world. He and his wife, who is in medicine, followed their hearts, starting in the year 2000 with short-term mission trips.
In 2003 Van Klinken took a trip to Afghanistan to try to help farmers earn money with crops other than poppies. It wasn't a big success.
"They would say, 'I can make $50 an acre by planting carrots... but $500 an acre by planting poppies'," Van Klinken said. "And that was that."
Trying to get out of Afghanistan was difficult, and on the way to the airfield in Kabul he recalls seeing boys playing barefoot in the snow. He realized he had to do more.
So he and his wife quit their jobs and moved to Nicaragua. Once there he was quickly humbled.
"I'm a good farmer," he said. "I was growing corn, and I noticed ants on the silk. So I got some stuff to get rid of them. Not more than a week later I was out with farmers and saw them putting something from little containers onto the silk of their corn."
He asked about it and was told it was cane sugar, meant to attract ants to the corn. The ants were needed to eat the worms that could destroy the crop.
"They know what they are doing," he said.
Van Klinken talked about the difficulty of giving aid to other countries. He compared aid to a house fire. He noted that after a fire the community will rally around the victims, giving gifts and helping the family get back on their feet. But if the house burns down constantly, the victims of the tragedy will become dependent on the aid.
He witnessed that attitude in Nicaragua when a hurricane was on the way. He said he heard people say they hoped the damage would be severe so they could get new homes.
Van Klinken said that poverty is not a lack of wealth or material things.
"Poverty is the lack of ability to change your situation," he said.
It could be caused by a number of situations, but he said he lived every day with the motto of breaking the chain of poverty and giving people opportunities.
A success story for Van Klinken was a group of coffee farmers who settled in the mouth of an extinct volcano. He was asked by the farmers why they only got 50 cents a pound for their coffee when it sold for $4 a pound elsewhere.
In order to get the premium price, the farmers needed to dry, process and roast the coffee. And so they started to do it, despite how time-consuming the process could be.
The farmers were able to make a profit and buy their land.
"It was the biggest success of the 200 farmers I worked with," he said.
The coffee is currently sold in markets in Iowa, Van Klinken said.
"I miss it," he said of the years he spent in Nicaragua. "I sometimes feel guilty being back here."