Thursday, October 17, 2013
/lk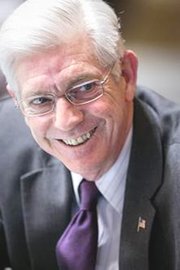 OLYMPIA - Washington House Republicans have named Rep. Bruce Chandler, a 13-year veteran of the legislature as the next person to lead the caucus' budget solutions and negotiation committee.
Chandler has served on the House Appropriations Com-mittee seven years since he was elected to represent the 15th Legislative District, which includes eastern Yakima County.
Chandler will replace Rep. Gary Alexander, R-Olympia, who served as the ranking member on the House Ap-propriations Committee for eight years. Alexander has announced he will resign from his House seat later this year
"It's a true honor to be chosen for this leadership position and I will take my new responsibilities very seriously," said Chandler, R-Granger.
"This role requires a great deal of listening as well as a strong understanding of how the state's budget affects families across our state every day," Chandler said.
"I appreciate and respect the hard work that Alexander did for our caucus and our state. He had an influence on this year's strong bipartisan budget, and House Republicans will continue that by offering solutions that balance our budget responsibly," Chandler said.
As ranking Republican on the House Appropriations Committee, Chandler will take the lead for the Republicans who serve on the committee, acting as the chief operating budget negotiator for the caucus. He said he will support budget solutions that are fiscally responsible and sustainable, prioritizing education, public safety and the most vulnerable that cannot care for themselves.
"The budget is about more than just numbers – it impacts our families and communities for years to come," said Chandler.
"What I've learned in agriculture, I also believe about the state budget: we must look long-term for the best solutions to ensure our state is positioned for prosperity in the future," he said.

He said House Republicans strongly believe that prioritizing the budget according to the critical duties of government is the best way to appropriate the hard earned dollars sent to legislators by taxpayers.
"I'll be proud to lead a strong group of Republicans who serve on the Appropriations Committee, as we work to adopt budgets for which our constituents can be proud," he added.
Washington House Republican Leader Dan Kristiansen, R-Snohomish, said Chandler emerged from a talented group of Washington House Republican candidates for the position.
"It became clear that his experience, negotiating skills and compassion made him the right fit. Anyone who knows Chandler can tell you he is fiscal conservative, whose heart is with people who are struggling," Kristiansen said.
"We will miss Gary, but the lessons he leaves us will be invaluable moving forward," he added.
Chandler has spent his time in Olympia quietly amassing an exhaustive mastery of the issues that face the people of Washington, said Rep. J.T. Wilcox, R-Yelm, and assistant ranking Republican on the House Appropriations Committee.
He said the Granger legislator stands up squarely for struggling people all across Washington state.
"There could be no better choice for this post. Bruce has been a mentor and friend to me from the first moment I stepped into the Capitol," said Wilcox.
Chandler will officially step into his new role later in the year, but Alexander and Chandler are currently working to ensure a smooth transition.